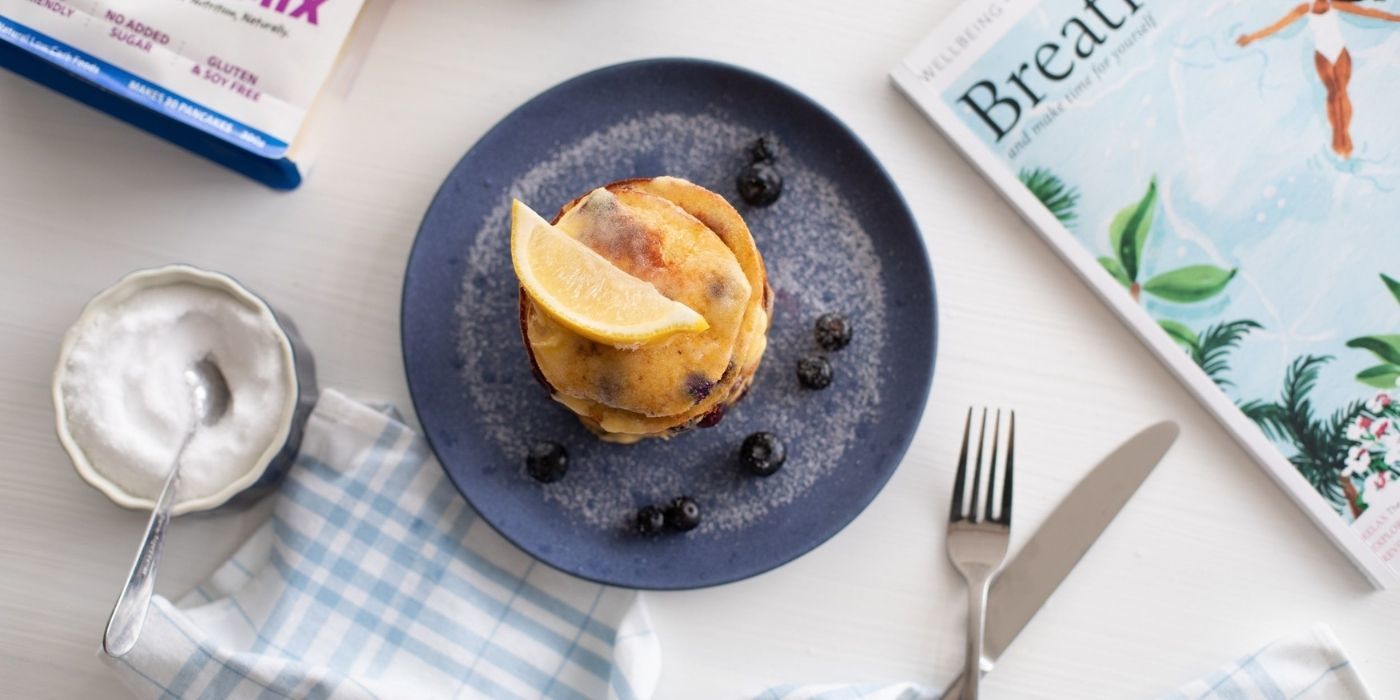 Low Carb Breakfast Ideas - That aren't eggs.
Are you looking for some low carb breakfast ideas that aren't egg based to mix up your morning meals?
We have put together this blog with a few suggestions for low carb, keto breakfast ideas and recipes to make your mornings even easier.
Now, before we dive into this - we are not saying that eggs aren't a great low carb or keto breakfast choice, in fact, eggs are awesome, nutrient-rich and SHOULD be consumed if you can or choose to eat eggs. However, most low carber's would agree that at some stage in your food journey there comes a time when you just can't have another egg breakfast.
Personally, I've been trying to reduce my meat consumption over the few years and like to have eggs for lunch or dinner, so I love the fact that there are some high protein low carb breakfasts that I can enjoy that aren't egg based so I can save those for later in the day. 🤓
OK... Let's get to it!
Nutrition per serve: (2 slices) - Protein 17g • Fat 5g • Carbs 3g • Fibre 8g
How good is toast! One of the things that is often missed when starting a keto lifestyle is bread. Protein toast with your favourite toppings is a super convenient low carb keto breakfast choice.
Protein 6 Seeds is does taste different to regular bread, it is denser and packed with seeds, and you may have to adjust to what you are used to HOWEVER there are so many benefits and it tastes amazing toasted with your fave toppings.⁠
Packed with good fats, fibre and protein, you won't even think about food until lunchtime!
Nutrition per serve: (3 pancakes) - Protein 20.1g • Fat 8.4g • Carbs 3.6g • Fibre 6.7g⁠
Low Carb Pancakes that are keto-friendly?! Yep! Enjoying a pancake breakfast without the sugar overload is possible. Protein Pancakes are packed full of nutrition.
Pancakes are no longer a weekend special - making a batch of Protein pancakes is so easy you can enjoy them every day! Simply make up a few batches in your weekly meal-prep and have a few brekkies ready to go.
Nutrition per serve: (1 muffin) - Protein 10g - Carbs 7g - Fat 9g - Fibre -6g⁠
Muffins are the ultimate grab & go breakfast! By making yourself a batch of low carb muffins, you can have your breakfast sorted for a week (or 2)
The best thing about Protein Muffin Mix is that it is the PERFECT base for your classic favourite low carb breakfast muffin recipes; Blueberry, Apple Cinnamon, Double Choc Raspberry, Banana Choc Chip etc. You can find these recipes here.
Nutrition per serve: (1 slice) - Protein 10g - Carbs 7g - Fat 9g - Fibre 6g⁠
Don't miss out on Banana Bread just because you're low carb!
Fast & easy to make, 1 loaf makes 12 slices to keep in the fridge or freezer, so you never struggle with low carb breakfast ideas again.
Nutrition per serve: (1 cookie) - Carbs 4.5g - Fat 12.8g - Protein 10g - Fibre 5.7g⁠
Cookies for breakfast? Yes! Sometimes you want a meal-on-the-go or don't have time to sit and eat a full meal. Enjoy a quick, nutritious keto-friendly low carb cookie that still packs a protein punch to keep you satisfied.
1 mix = many tasty cookie adventures. Make your ULTIMATE Low Carb brekkie or snack!
Quality Protein + Healthy Fats + Fibre = Full for longer!⁠
Protein Shakes
Protein shakes or smoothies bought from Juice/ Smoothie bars can still be super high in carbs and sugar even though they are meant to be 'healthy' - the ingredients are generally ok, however, the quantities are 3-4 times more than what you need.
If you prefer a shake n' go breakfast, here is a simple little guide to make your own low carb breakfast smoothie!
Simply pick one option from each category below 👇🏼
Liquid - (200-250ml) Water, Soy Milk, Unsweetened Almond Milk, Coconut milk, or Mylk alternative of choice (unsweetened)
Veggies or Fruit - Handful or 2 of mixed greens of choice, 1 x small zucchini, 1 x cup berries (fresh or frozen) ½-1 banana. You can also leave out the fruit/ veggies if you are after a super low carb smoothie.
Protein - 1-1.5 scoop Low Carb Flavoured or Plain Protein Powder (plant or whey) of choice.
Extra's (optional) - 1TB Nut butter, 1TB Nut meals, 1 TB Unsweetened plain yogurt (we recommend Chobani Plain or click here for our review on the Best Low Carb Greek yogurt) , 1TB Nuts or 1TB seeds
Flavour - Sweetener of choice, Sugar Free Maple, Vanilla extract, Flavour extracts (peppermint, hazelnut etc) Dark chocolate, Coffee, cinnamon, nutmeg, coconut cream
Ice - A handful of ice cubes - *optional. but recommended.
Blitz - Pop all into a blender or bullet and blitz!
You can find a whole bunch of Protein Shake recipes here!
What about Cereal or Granola?
Most cereals and granola would not be considered as a low carb food! That said, low carb is different for everyone. Someone who is following a low-lower carb plan may have room in their day for cereal and want to include it.
Amongst all the sugar-filled cereals on our supermarket shelves, there are the occasional good ones. Whilst not super high in protein, good cereal should have a decent amount of fibre and low sugar. If you are following a keto diet, you most likely will avoid cereals and grains.
If you are following a low-lower carb plan and have the flexibility in your daily carb count to enjoy cereal, go for it! One thing to be mindful of is the stated serving size vs what you actually pour into your bowl.
Most supermarket cereal servings on the pack are approx 40g per serve (⅔ cup). However, people tend to pour what they think is a serve rather than measure it out. You may end up free-pouring 2- 3 times the measured serve, depending on the size of the bowl.
If you are going to have cereal/ granola, measure out what a portion is, or what your portion is and work out the macros and don't forget to account for the milk.
LowER Carb Cereal Options...
If you're keto - you may want to skip these :)
One easy way to drop a few carbs from your bowl is switching to unsweetened almond milk. But if you like milk as is, I did a little research to find a few cereals in the supermarket with 20g carbs or less per serve, with a decent amount of fibre.
A way of bumping up the protein in cereal and granola is having it with a protein rich yoghurt like Chobani - Plain or YoPro - Natural
Are there any great low carb/ keto cereals in the supermarket?
Farmer Jo's - Paleo Granola (found in Woolies, Coles, Supa IGA's and some fruit & veg stores like Harris Farm ) - I really like this granola - I don't have it for breakfast, I'm more of a cereal-in-the-afternoon person and enjoy it with some unsweetened almond milk as a snack. - Per 50g serve its 6.2g carbs and 6.2g fibre.
There are also plenty of recipes online for keto granola - It may be easier to make your own!
So there you have it, a few keto-friendly / low carb brekkie options that are not egg-based for you to enjoy!
---
References:
https://www.calorieking.com/au/en/foods/f/calories-in-breakfast-cereals-just-right-cereal/4J0Kp6GVRvaxegJEy6A97g
https://www.thenibble.com/reviews/main/cereals/what-is-granola-cereal.asp