6 Healthy Food Gifts for Christmas
Who doesn't love food gifts, especially when they are homemade?
These EASY to make low carb recipes are the perfect healthy food gift for anyone who is trying to cut down on sugar, or following a keto diet who still want to enjoy sweet treats every now and then.
Check out our goodies below - Perfect for Low Carb & Keto Christmas gift baskets, or any time really!
---
Enjoy the taste of summer any time of the year with our Sugar-Free Passionfruit Butter (Curd) The perfect addition to your tarts, pavlovas, on top of Protein Pancakes for a tasty keto brekkie or on top of some ice cream!
---
This Sugar-free Cranberry sauce recipe is SUPER easy and is perfect for anyone Living Low Carb. The base recipe that we used for this one, was actually on the back of the pack of the frozen cranberries we brought from Woolies! We obviously adapted it to our own recipe, without all the sugar!
---
Simply bake a batch of ANY flavoured low carb cookies and make them in mini sizes. You could easily get 20 cookies out of a half a pack. Allow them to cool completely before popping them into the jar!
---
Inspired by our love of shortbread, as well as the danish Kransekage - these chewy almond finger biscuits are a low carb delight. Perfect option for a healthier Christmas too - why not take a plate to your next event, or wrap some up as a gift?
---
Jam is a classic toast topping – and now we have a healthy no added sugar raspberry jam recipe to use on Protein Bread! Enjoy this sugar-free jam on Protein Bread toast or on Protein Pancakes!
Anna made the label in Canva, or you can buy blank labels from supermarkets and handwrite.
---
Lemon Curd really isn't that hard to make from scratch! Its a wonderfully sweet & tart spread that works so well in cakes, scones and tarts. Our sugar-free recipe means that you can enjoy your favourite lemony sweets without the sugar overload!
---
We used our Sugar-Free Icing Mix in these great recipes!
Be sure to let us know which of these healthy food gifts you make for someone, or maybe you will make them for yourself. :) Don't forget to tag us in your images on Facebook or Instagram.
🍰 Visit our ONLINE SHOP for more great low carb baking products 🎂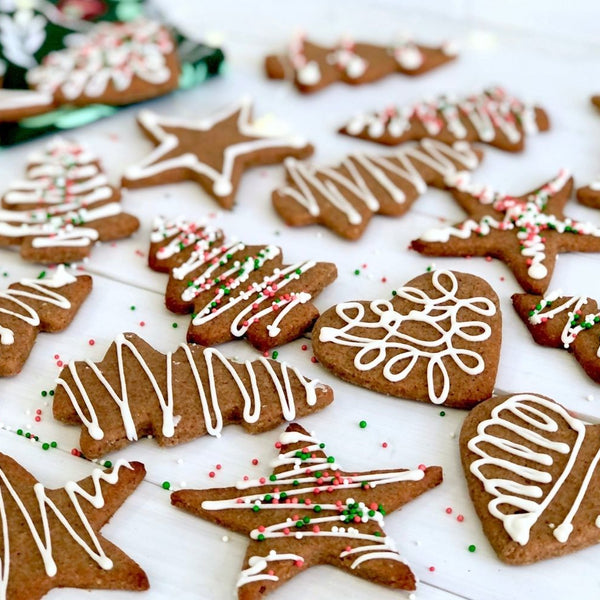 Can you have a keto-friendly or low carb Christmas? - YES You sure can with our 6 Healthy, Low Carb & Gluten Free Christmas Recipes. We've created this range of easy, low carb, gluten free a...
Read more