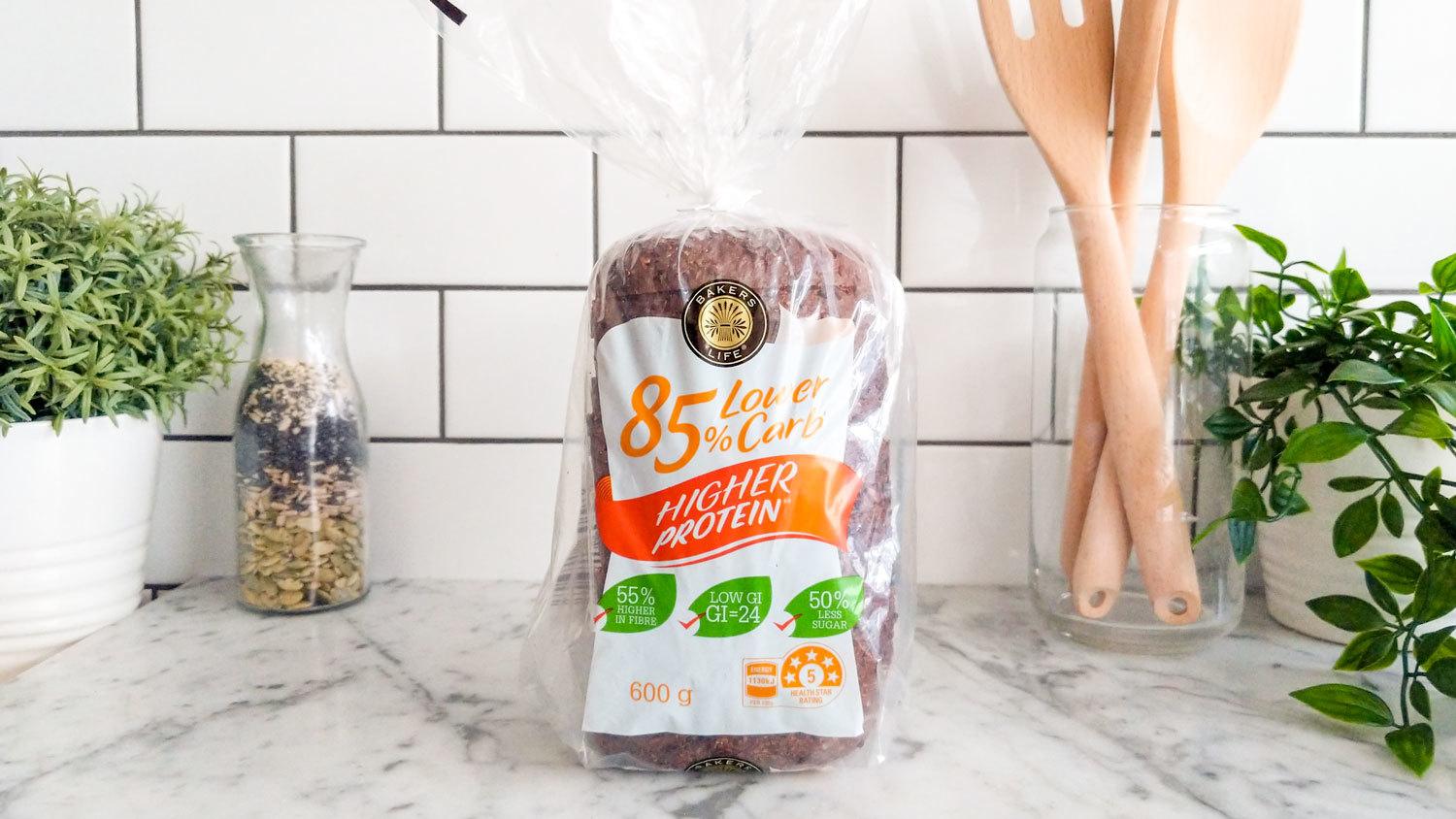 Aldi Low Carb Bread - by Bakers Life // Product Review
This Aldi Low Carb Bread has been popping up again and again in my Facebook newsfeed recently and it seems to be getting
A LOT
of coverage due to an article posted on the popular online journal Mamamia. Now the first thing that caught my eye with this
low carb bread
was just how similar the nutrition and ingredients are to Herman Brot bread which has been available for a while now. More on that below. This Aldi Low Carb Bread, which is under Aldi's own "Bakers Life" brand claims 85% Lower Carb, Higher Protein, and Low GI compared to "Bakers Life Soy and Linseed Bread"… which is very similar to Burgen's Soy and Linseed Bread. Aldi is good at making remarkably similar products aren't they ;)
So, how does the Aldi Low Carb Bread taste?
I've got to give credit where credit is due: this Aldi Low Carb Bread actually tastes reasonable. It's a darker style of bread and is very "seedy", however most of these "seeds" are actually bits of soy. Tastewise it's similar to a soy and linseed loaf but with a more light rye / sourdough taste. On the texture front, Aldi Low Carb Bread is hard to describe but it has both a moistness, and a dryness at the same time. The other reviews I've read of this bread state it to be quite moist which I can understand, however there's a sharpness in the texture that I can't quite put my finger on.
So, what is in this Aldi Low Carb Bread?
This is where my excitement starts to wane:
Water, Wheat Protein, Soy Protein, Lupin Protein, Soy Meal, Linseed, Sunflower Seeds, Soy Grits, Wholegrain Wheat Meal, Wheat Bran, Soy Flour, Yeast, Vinegar, Apple Fibre, Iodised Salt, Roasted Malted Barley Flour, Emulsifier (322 from Soy), Acidity Regular (262). Contains Wheat, Soy, Lupin and Barley.
Firstly, there is

a lot

of soy in this product.
And in all sorts of forms too. There's soy protein, soy meal, soy grits, soy flour and emulsifier 322 which is soy lecithin. Lecithin is used as an emulsifier to help stop water and oil particles separating. That's pretty much soy in every possible form.
Secondly, this product is not gluten free.
Very far from it.
Now I'm not coeliac so usually that wouldn't be of concern for me, however looking at the order of ingredients (and remembering they're in descending order by weight) you'll see wheat protein is the first ingredient after water.
What is wheat protein?
Answer: Gluten. Ingredients are taken from the packaging on the 05 September 2018 and may differ to what you see on yours.
Nutritionally, how does this Aldi Low Carb Bread compare?
This is where I first noticed the similarities to Herman Brot's Lower Carb Bread. I checked their website and my suspicion is correct – it's the exact same bread as Aldi Low Carb Bread. Per serve (92g): ✅ Energy: 1040 kJ (248 Cal) ✅ Protein: 23.6g ✅ Fat: 12.8g ✅ Carbs (total): 5.0g ✅ – Sugars: 1.4g Information taken from packet. 05/09/18 Let's compare that to a serve of Burgen Soy Lin (83g): ⏺ Energy: 751 kJ ⏺ Protein: 11.2g ⏺ Fat: 4.8g ⏺ Carbs (total): 19.9g ⏺ – Sugars: 2.4g So, as you can see, the protein level is about double and the carbs are around 70-80% less than Burgen or a regular multigrain bread.
Did Aldi Low Carb Bread deliver on its promise?
Yeah, I have to say it did. The front of pack claims stack up, and the taste and texture are both reasonable. Not suitable if you are trying to avoid or cannot consume products that contain Soy or Gluten.
Where can you buy Aldi Low Carb Bread?
Funnily enough, from ALDI ;) But get in early in the morning as it tends to sell out quickly. It was retailing for $4.99 in my local stores (Marrickville Metro and Broadway, Glebe) however it may differ in your store.
What other Low Carb Bread options are there?
The great news is that there are so many low carb options for most products these days. All these options really help make living low carb much more sustainable long term as you don't have to cut anything out, just make better choices! Our very own Protein Bread, both Original and 6 Australian Seeds varieties are also incredibly low in carbs, even more so than Aldi's or Herman Brot's coming in at less than 2g of carbs per serve (2 slices). What's more, they're both Gluten Free and Soy Free too!
Have a product you want to see reviewed?
Let me know by commenting below! I'm always keen to see what you guys find and I love food :) All these reviews are just of products I've found myself and loved… or not loved. None have or will ever be paid promotions, that's just not my bag. Cheers, Luke
Fuelling Your Body for Weight Loss
When it comes to weight loss, we often think about what we are not going to eat – what foods we might need to say good bye to and how many calories we are going to restrict. How does this process o...
Read more