Enjoy a cafe-style muffin with a fraction of the carbs & sugar!
Nothing beats the convenience of a grab-and-go brekkie option like a muffin, especially when we are so time-poor. Even if you are WFH and aren't going anywhere, having your breakfasts or snacks sorted makes meal times so much easier and you're less likely to mindless much during the day.
Most cafe-bought muffins and supermarket muffin mixes are quite high in sugar. Anywhere between 30-50g carbs per serve. Rather than miss out, simply swap to something better!
Firstly, I think we should talk about the Protein Muffin Mix…
Due to our special blend of natural and wholesome ingredients, these muffins have a delicious wholemeal taste and texture (whilst still all being gluten-free and low carb). Easy to make, you can prepare a batch and keep them in the fridge or freezer to ensure you don't miss out on a great protein-packed breakfast or snack on those busy days.
Simple Natural Ingredients: Lupin flour, faba flour, erythritol, faba protein, almond meal, kibbled sunflower, chicory root fibre, flax meal, chia flour, baking powder, cinnamon, natural flavour, vanilla bean powder, salt, monk fruit.
Protein Muffin Mix
AUD

$

 14.00
Enjoy a delicious high protein low carb muffin for a great low carb breakfast or snack. Gluten Free & Vegan Friendly....
---
Here are 6 muffins under 10g of carbs per serve!
Carbs per serve – 8g
Apple Berry is such a classic cafe style muffin flavour we'd be silly not to include it in this list. Bursting with fruity goodness, you won't believe that it's low carb. You can use fresh or frozen berries in any combo of berries you choose.
---
Carbs per serve – 6g
Sign me up for Raspberry White Choc anything, it's one of my favourite flavour combos! We had a little fun with some Vitawerx Keto-friendly white chocolate, but you can use any sugar-free white choc chips or bars you like.
---
Carbs per serve – 5g
Sometimes you want a touch of indulgence in a muffin. Our Passionfruit & Coconut Protein Muffins have a tropical twist that will satisfy anyone's sweet tooth. Don't forget the icing for this one! 😉
98% Sugar Free Choc Chips (220g)
AUD

$

 7.95
Premium 98% Sugar Free Choc Chips made from REAL chocolate and naturally sweetened. No Vegetable oil. Gluten Free....
---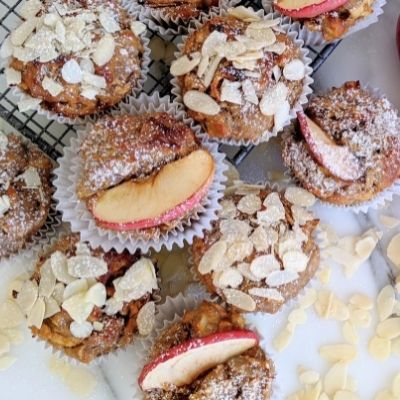 Carbs per serve – 7g
This Apple Almond & Cinnamon Muffin recipe is featured on the back of the pack, and for good reason. It's delicious AF! Grating the apple in this one gives these muffins are beautiful texture and when it comes to flavour power couples, can you really beat apple & cinnamon?!
---
Carbs per serve – 7g
These Pear & Walnut muffins are simply delightful served with a dollop of yoghurt on top (or equally as yummy, as is!) Note, add a little cinnamon and ginger to this one if you want to spice this one up!
---
Carbs per serve – 8g
We would be pretty crazy if we didn't have at least ONE Chocolate Muffin on this list. These Choc Raspberry Muffins are super moist, almost brownie-like, which is awesome.
Add a fun little twist by dolloping a heaped teaspoon on Peanut Butter into the top before baking…yummm!!
---
Do you need an egg-free baking option?
You can use our Vegan Egg Replacer in place of the eggs needed in these recipes.
Vegan Egg Replacer (180g)
AUD

$

 6.95
Vegan Egg Replacer with Organic Chia allows you to create egg free and vegan baked goods. Gluten Free. Natural Ingredients....
Here are some other lists you may enjoy…
22 Easy Low Carb Snacks
Snacking gets a bit of a bad wrap, especially because we often think ...
VIEW THIS ARTICLE
Low Carb Breakfast Ideas - That ...
Are you looking for some low carb breakfast ideas that aren't egg ...
VIEW THIS ARTICLE
Let us know which cafe-style muffins – you try with our Protein Muffin Mix and your favourite! We'd love to see your creations on social, so don't forget to tag us over on Instagram and facebook.
Visit our ONLINE SHOP to pick up our Protein Muffin Mix & More
👩‍🍳 Click here for more great low carb recipes. 👨‍🍳

Author Profile
Jo struggled with obesity as a teenager. She decided that she needed to take control of her health, and embarked on a 3.5-year journey to lose 56kg's and get healthy, This involved a combination of cutting out a lot of unhealthy foods, reducing carbs and exercising. Educating herself on the value of nutrient-rich foods was a key factor. Throughout this, Jo became passionate about helping as many people feel as good as they can, so they could enjoy life with those that they love. Joanne started with the business in Customer Service, and due to her passion for Low Carb as well as experience as a Weight Loss Coach – quickly progressed and was promoted to Community Manager.