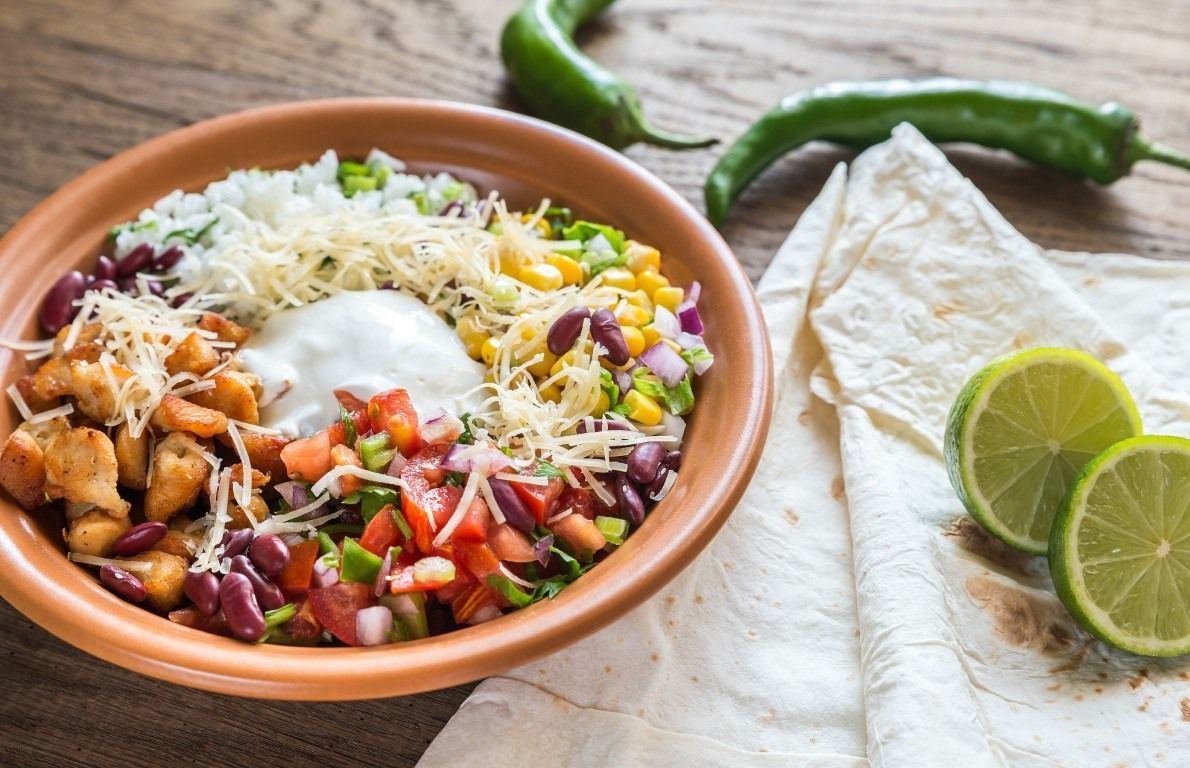 Guide To Low Carb Options For Mexican Cuisine
Hola! We are sharing our guide to low carb options when you're after your Mexican food fix. Nachos, burritos, tacos, fajitas are all sounding pretty carb-heavy, but there is some good news, there are plenty of ways to eat low carb at a Mexican restaurant.
With the exception of the chain stores, Mexican restaurants in Australia tend to be quite different from one another and often a bit of a mix between Mexican and Australian cuisine. So here are some Mexican dishes that you'll find in most places. They can be found in your typical fast food Mexican places like GYG and Mad Mex, as well as your fancier restaurants.
If you have a particular favourite Mexican restaurant with a lot of low-carb options, do share and let us know! We'd love to check it out and share it with everyone too.
Foods to Avoid When Eating Low Carb at a Mexican Restaurant
❌ Burritos

This one is straight out the door.

Not only do you get hit with the carbs from the wrap, you've also got to account for the rice and the beans that are generally in burritos.

One "standard" beef burrito is going to smash you with around

88g of carbs

.

❌ Quesadilla

Drool worthy, sure. Low carb…not so much.

A corn tortilla stuffed with cheese, folded and pressed in the grill sounds incredible, but just one quesadilla contains around

45-50g of carbs

.

❌ Nachos

An absolute favourite of mine when I want a bit of a cheat meal.

Unfortunately though, tortilla chips, despite being very light, are mostly carbs.

Just 100g of corn chips has around 64g of carbs.

By the time you add your fillings, salsa and any other condiments you're well over what anyone could consider low carb, even on a generous day.
---
The Best Low Carb Options at a Mexican Restaurant
I'll admit, this was probably one of the harder articles I've had to research. There are plenty of great low carb options at the
pub
, a few to choose from when eating
Japanese
, and surprisingly there's even plenty of great low carb options at
Italian restaurants
, but Mexican food leans very heavily on corn and beans due to the availability of those crops in Mexico.
Fear not, I've included below a few options from Mexican chain food stores like Zambreros and Mad Mex as well as some more modern Mexican-fusion dishes that I've come across before. We love being able to give you a variety of meal options!
✅ Naked Burrito (aka Burrito Bowl)

Although some might not call this a "burrito", this dish is essentially the fillings of a burrito in a bowl instead of a wrap. The trick here is to make sure you leave out rice or beans as these will instantly hit you with around 20-30g of carbs.

If you opt for the meat, salad and cheese only, a naked burrito or burrito bowl with beef, cheese, salsa, sour cream and guacamole will see you at

just 5g of carbs

!! How good is that?!

If you need a bit more to fill you up, just double the meat and it will boost your protein up to around 35-40g of protein which is a great serve.

✅ Ensalada (Salad)

Ensaladas are definitely worth a mention, and salads are generally a safe bet (unless it's pasta salad), when you're trying to eat low carb.

At a Mexican restaurant, just watch out for beans or corn which is sometimes added, these will definitely spike you over 20g of carbs.

If you're going for salad greens, cheese, beef or chicken you're going to be looking at

less than 10g of carbs

which is a pretty good option.

✅ Aguachile

This is a delicious dish somewhat similar to

ceviche

.

Traditionally,

aguachile

is a dish made with prawns pickled in lime juice and served with chillies, capsicum, onion and coriander. It's served cold and is to be eaten like raw sashimi.

Depending on the Mexican restaurant you may also get cucumber, avocado or even corn chips.

It's hard to give an exact figure, but a traditional aguachile dish should only

have around 10-15g of carbs

depending on how it's prepared.

✅ Pescado (Grilled Fish)

Seafood plays a big part in Mexican food and many Mexican restaurants will have charcoal grilled fish on the menu.

Assuming your grilled fish comes with a bit of salsa or Pico de Gallo, and not corn tortillas, you'll probably be looking at somewhere

around 10g of carbs

.

✅ Pollo Asado (Grilled Chicken)

Another staple protein of the Mexican diet is chicken, which is great because chicken is basically carb free. The caveat is being mindful about what the chicken is served with. Stick to the protein and avoid anything you know is carb heavy and you'll be okay.

A grilled marinated chicken dish should sort you out with a

heap of protein and only 5-10g of carbs

.

✅ Burrata

If you spot this on the menu at your Mexican restaurant then definitely give it a go!

Burrata is a soft cheese similar to fresh mozzarella. It's often served with mixed vegetables, salsa and some other goodies so definitely check it out.

Burrata itself is cheese which as we know, is quite low carb with only a couple of grams of carbs per 100g. You can find other delicious low carb cheeses in our

Definitive List of the 15 Highest Protein Cheeses

!
---
What about the toppings?
The good news about eating low carb at a Mexican restaurant is that the toppings or condiments are generally very low carb or even keto-friendly.
So whilst you might feel like you're missing out by excluding the wrap or the corn chips, you can make up for it with a double helping of guacamole or sour cream. YUM!
✅ Guacamole

Who can say no to this?!

Guacamole is predominately avocado, fresh herbs, lemon juice and chilli so it's very low in carbs. The bright green makes for a colourful addition to your favourite Mexican dish.

Half a cup of guacamole has around 5g of carbs.

✅ Cheese

Winner.

Cheese is basically carb free. The harder cheeses are usually more so than the softer ones, but all are very low in carbs. With a broad range of cheeses available, you'll never get sick of this topping.

Remember, just because cheese is carb-free doesn't mean it's calorie free! Find the

15 Highest Protein Cheeses

in our blog.

✅ Sour Cream

Another winning condiment. Light, tart and the perfect amount of creaminess to complement your meal.

Sour cream has only 3g of carbs per 100g

(which is a LOT of sour cream) so go for it. It's a great way to add some extra calories to your meal if you need them.

✅ Hot Sauce

Great news for the spice lovers! Hot sauce has less than 1g of carbs per serve.

Mexican food is delicious with an extra kick.

✅ Salsa

Salsa or Pico de Gallo, is often made with tomato, onion, coriander, chilli and lime juice. It's refreshing texture balances well with the other more intense flavours, not to mention it's a lower carb topping or condiment.

It varies from recipe to recipe quite a lot but salsas are generally very low carb (provided they don't have corn in them).

A standard tomato-based salsa has

around 7g of carbs per 100g

.
---
Want to make Low Carb Nachos at home?
What if we told you that you could make nachos (yes it is one of those foods we told you to avoid!) at home, that are low carbs, high in protein and just outright delicious?! Well, with our

Protein Pizza Base Mix

, you can do just that.

With our easy

Low Carb Nachos

recipe, whip up some low carb tortilla chips that have only 3g of carbs per plate! Add your source of protein (we usually opt for ground beef), cheese, guacamole and other low carb condiments for your guilt-free nachos.

With the same Pizza Base Mix, you can also combine the best of both worlds and create a fancy

Low Carb Nacho Pizza

. We're going loco for these!!!

You can also find some of our other keto Mexican recipes including our take on a

burrito bowl

,

salsa (Pico de Gallo)

and

Mexican Stuffed Capsicums

.
Summary
After reading this guide, you'll know that low carb Mexican food is totally possible. It's still delicious, authentic and won't get rid of all the healthy eating habits you've set for yourself. Whilst you'll have to say no to the fajita and the taco, there is still a wide range of Mexican cuisine dishes to try and ENJOY. Following a low carb diet doesn't mean the same recipe over and over again, which is why we've created these guides the next time you're dining out! And remember, the goal is to 'Swap, don't stop!'

What's your favourite low carb options when you eat out at a Mexican restaurant? We're curious to hear your thoughts.

For other cuisines, check out our

Guide to Low Carb Options for Japanese Cuisine

or

Guide to Low Carb Options for Italian Cuisine

.
Why I Love Low Carb, by Luke Hopkins
I had a big realisation as a teenager where I went from living to eat, to eating to live. For me, low carb just makes sense. It's not a diet, it's not a fad, it's not restrictive and I rarely feel...
Read more