LowER Carb Raisin Toast
Raisin toast is a favourite of many, unfortunately, it isn't low carb. One piece of cafe style Raisin toast can vary between 25-43g of carbs!!! By using Anna's Low Carb Sunflower and Linseed bread mix, you can create a LowER Carb Raisin Bread Loaf for 8.2g carbs per slice and you also get the added benefits of sunflower and linseed 👍
18 slices.
1 packet of Anna's Low Carb Sunflower and Linseed Bread Mix 1 1/4 cup (315ml) of water 1 tablespoon (20ml) of white vinegar 3 eggs 130g raisins 2 heaped tablespoons of cinnamon
Pre-heat oven to 170 deg and line a small loaf tin with oil & baking paper. In a small bowl - whisk together the wet ingredients In a large bowl place contents of the Low Carb Bread Mix & 130g Sultanas. Make a well in the centre and pour egg mixture into bread mix & stir only enough to combine. Sprinkle 2 heaped tablespoons of cinnamon over bread mix and fold through (this creates a cinnamon swirl - don't over mix) Spoon mixture into the tin, and smooth over the top. Bake for 60-70 minutes. (test with a skewer) if it does not pull out clean, add another 5 mins. Let cool to room temp on a rack out of the tin - and refrigerate for 2 hours to make slicing easier (overnight even better) --storage Slice and store in the freezer in sandwich bags, pulling what you need as you go - or keep in the fridge for 5 days.
Low Carb Cheese & Garlic Focaccia
A beautiful Low Carb Cheese and Garlic Focaccia to serve with anything that tickles your fancy. A homemade soup, salad or part of an antipasto spread. 2.4g in carbs and 8g protein per serving! 👍👍
Read more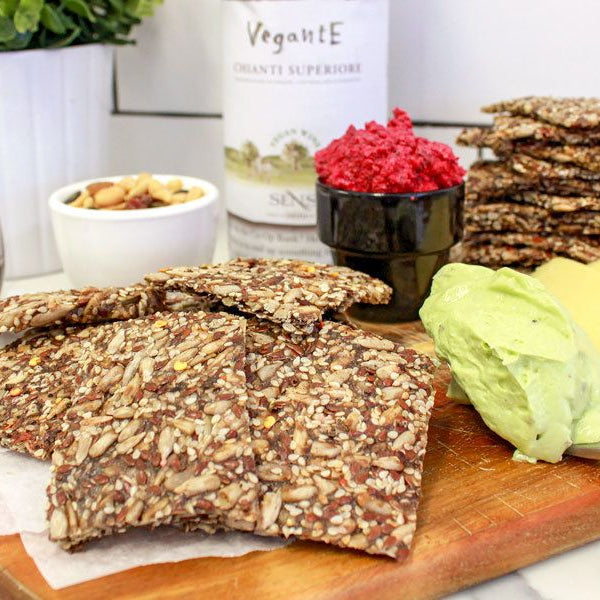 These Low Carb Seeded Crackers would be the perfect accompaniment to a Friday afternoon cheese platter. All the super seedy goodness of your favourite seeds, and a little psyllium husk to bind the ...
Read more