The Best Low Carb Vegetarian Burger Patties
With the increasing awareness of people switching to a meat-free diet, or even just simply reducing the number of animal products they consume, we thought we would search for some low carb vegetarian burger patties for your next BBQ or Burgerpalooza!
Our criteria - 10g carbs or less per 100g ✅
Note: Some of these contain soy.
Updated April 2021
---
The Lowest Carb Veggie Burger Patties are...
Beyond Meat - Beyond Burger Patties
Ingredients:
Water, Pea Protein*, Expeller Pressed Canola Oil, Refined Coconut Oil, Rice Protein, Natural Flavors, Dried Yeast, Cocoa Butter, Methylcellulose, Contains 1% or Less: Potato Starch, Salt, Potassium Chloride, Beet Juice Color, Apple Extract, Pomegranate Concentrate, Sunflower Lecithin, Vinegar, Lemon Juice Concentrate, Vitamins and Minerals (zinc sulfate, niacinamide , pyridoxine hydrochloride , cyanocobalamin , calcium pantothenate)
Carbs per 100g: 2.6g
---
Fry Family - Quinoa & Brown Rice Burger
Ingredients:
Water, Gluten-Free Crumb Coating (25%) (Rice Flour, Gram Flour, Maize starch, Salt, Paprika, Pepper), Soy Protein (11%), Sunflower Oil, Brown Rice Protein (5%), Quinoa (5%), Potato Starch, Methyl Cellulose, Sea Salt, Rosemary, Marjoram, Sage, Chia (Salvia hispanica) seeds (3%), Yeast Extract, Garlic, Mustard Seeds, Turmeric, Black Pepper, Ginger.
Carbs per 100g: 6.6g
---
Moving Mountains - Plant Burgers
Ingredients:
Water, Vegetable Oil (Coconut), Oyster Mushroom, Vegetable Protein (Soy Protein Concentrate, Soy Protein Isolate, Pea Protein), Rice, Wheat Gluten, Wheat Starch, Natural Flavour, Thickener (Methylcellulose, Sodium Alginate), Oat Fibre, Barley Malt Extract, Vinegar, Colour (Beetroot Red), Lactic Acid, Vitamin B12
Carbs per 100g: 7.7g
---
Did you need to boost the protein in your veggie burgers??? Our Protein Bread 6 Seeds makes AWESOME Burger buns
---
Naturli Pea-Based Burger
Ingredients:
Water, 22% pea protein,rapeseed oil, coconut oil, natural flavour, tomato, beetroot concentrate, pepper, onion,malt extract (BARLEY, WHEAT), fermented dextrose, stabiliser (methylcellulose).
Carbs per 100g: 6.6g
Comments:
I've not tried these, but my friend who is a vegetarian said that this brand is popular and tasty.
---
Linda McCartney's Mozzarella Burgers
Ingredients:
Rehydrated Textured Soya Protein (64%), Rapeseed Oil, Onion (8%), Mozzarella Cheese (8%), Seasoning (Yeast Extract, Malted Barley Extract, Onion Powder, Flavouring, Salt, Garlic Powder), Stabiliser: Methyl Cellulose, Chickpea Flour, Flavouring (Yeast Extract, Salt, Sunflower Oil, Acid: Citric Acid), Garlic Purée, Malted Barley Extract, Onion Powder
Carbs per 100g: 10.3g
---
What if store-bought Veggie Patties aren't for you??
If you are after some vegetarian or vegan-friendly burger patties that are LowER/ Low carb, I found a few great recipes online. These do require some work, so if you are time-poor, it might be a good idea to plan some time and make a whole batch of these so they are ready to go for you next time!
Vegetarian Keto Burgers... Using Portobello Mushrooms as the patty!
Firstly mushrooms are sooo good for you! Portobello mushrooms are fat, juicy, and flavoursome which makes them perfect for a burger patty. This recipe stuffs them with yummy flavours so they are even tastier! (Don't forget to hit the 'jump to recipe' button 😉 )
Recipe creator & 📸: Martina Slajerova
---
This recipe uses cauli-rice and mixed veggies as the patty, no mention if these could be done in an air-fryer, but I am sure they could be!
Recipe creator & 📸: Marley
---
Veggie Burgers... This recipe seems to be the most time consuming of the 3, that said, its loaded with lots of great ingredients and veggies - so well worth it!
Recipe Creator & 📸 Nagi
---
Make some Protein Burger Buns to boost the protein!
The protein in these burgers wouldn't be very high, which makes our Protein Burger Buns the perfect bun for these burgers!! 😋 One pack of bread mix will give you 6-8 burger buns or 10 sliders!
So there you have it! Some plant-based burger patty options for you to enjoy! 😋
---
**Please note information was accurate at the time of collecting. If changes are made to the brand (packaging or nutrition) within our updates, please refer to their website. Changes may occur regarding their availability, please check with your local supermarket for more info.
Check out our other Supermarket Product Reviews here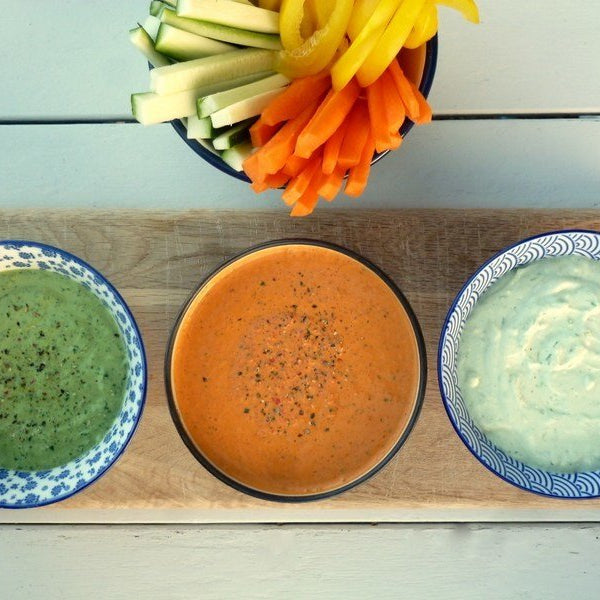 I don't know about you, but enjoying cheese, crackers and dip on a Friday evening is one of my favourite things in the world. Nothing beats homemade anything in most cases and if you have the time...
Read more