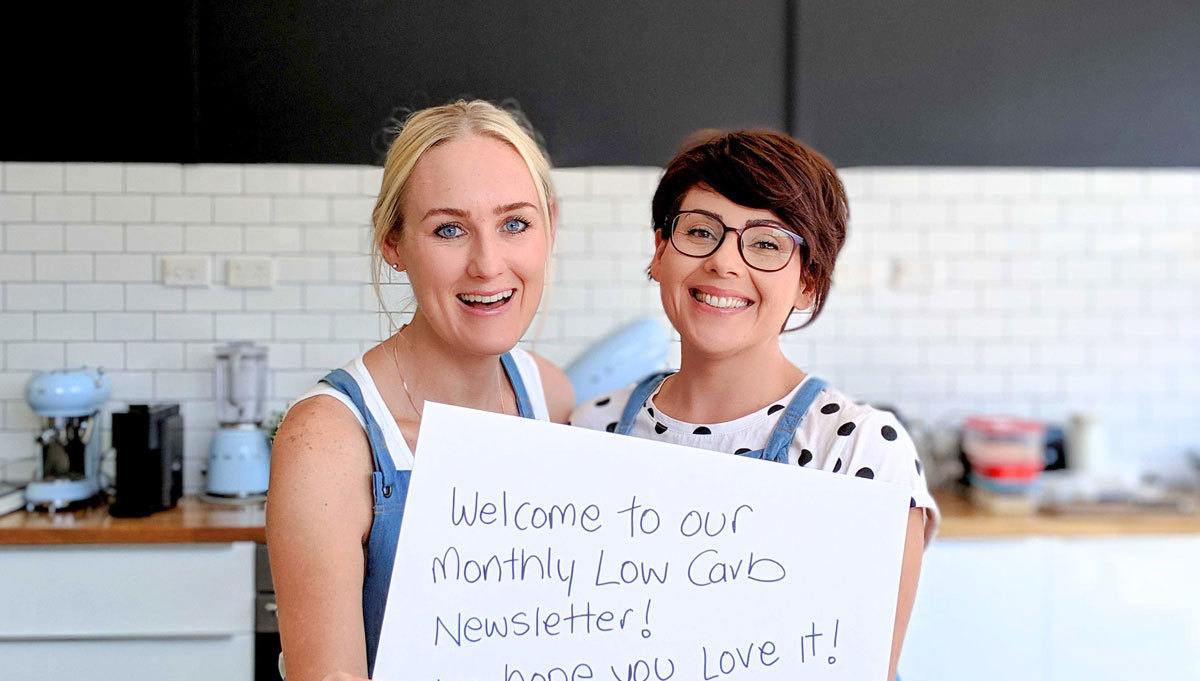 The Low Carb Newsletter - April
Welcome to our monthly Low Carb Newsletter!
Our goal each month is to find the latest and greatest Low Carb products, places to eat, information, and inspiration for you. This month we will be sharing some tips, tricks and treats to help you enjoy a happy and healthy Easter.
Everything we talk about in the newsletter we have personally tried, tested and love.
Jo & I have both been passionate about Low Carb Living for the past 10 years, after it dramatically changed our lives, in different ways, from increased energy & clearer minds to weight loss & maintenance.
We understand that Low Carb means something different to everyone.
Some people may be trying to achieve less than 20g carbs per day, and be more focused on Keto, and some others may simply be trying to reduce the amount of sugar and carbs in their diet. We have a zero judgement policy, meaning that we respect that everyone is different, has a different lifestyle and different goals. If you are striving to reduce the carbs in your diet, by however much, we are here to help & support you :)
I hope our Low Carb Living Newsletter really helps to fast track your results, helping you to achieve your health goals, and feel your best, whilst enjoying the journey!
This month's features
---
The Top 5 Fruit and Vegetables in season in April.
Each month we will feature what low carb fruit and vegetables are in season.
🍑 Fruits
Lime - 1g
Passionfruit - 6g
Guava - 4g
Avocado - 1g
Kiwi -7g
All figures are carbs per 100g.
🍆Vegetables
Zucchini - 2g
Cauliflower - 2g
Leek - 2g
Mushrooms - 1g
Eggplant - 2g
For the full list, visit: https://lovepbco.com/which-low-carb-fruits-vegetables-are-in-season-in-april/
References:
---
Supermarket Product of the Month
CHOCOLATE

With Easter this month, we thought we'd highlight the LOwER and Low Carb Chocolate options.
Now there is nothing wrong with enjoying your absolute favourite chocolate as a treat (even if it is a higher carb option) However, for those of us who are looking for some low carb options these 2 are the best you can find in your Supermarket.
Lindt Excellence Range - 90% is the LOWEST carb chocolate that is straight up cocoa, no sweeteners to be seen.
Check out the Best Low Carb Dark Chocolate - in your Supermarket here: https://lovepbco.com/the-best-low-carb-dark-chocolate/
It's definitely our favourite when it comes to baking. However, not everyone loves dark chocolate. They do have a 70% and 85% dark chocolate, and a flavoured range, obviously the carbs are higher in these.
Carbs per serve in this range 10g carbs or less.
Well Naturally, No Sugar range Dark and Milk chocolate is sweetened with Stevia.
Personally, for a low carb milk chocolate substitute, I think they pretty much nailed it.
They come in large bars (90g) which are great to use in baking (grab it when it goes on sale for ½ price at Woolies) or the smaller 45g bar which is great as a treat. I love the milk chocolate coconut bar and the sweet raspberry.
Carbs per serve in this range 2g carbs or less.
---
Low Carb Living Tip
How to enjoy a happy and healthy Easter.
Save Easter treats for Easter (avoid buying Easter chocolate or buns weeks before the event) You wouldn't open your Christmas presents before Christmas, would you?
Choose Quality over quantity.
Make some homemade Easter treats.
Balance out the indulgences with low carb meals that are full of veggies and protein.
Aim to be more active on the extra days off
Make the focus on family, friends and down time, instead of the food.
For more great Healthy Easter Tips and recipes check out the FULL blog here

---
Eating Out… Mexican!
Mad Mex Naked Burrito Bowls.

Now before you say "Don't Burrito Bowls have rice and beans?" - Yes, if you order it as is. However, by asking for no rice or black beans it becomes the PERFECT Low Carb Mexican takeaway meal. Or, by asking for no rice, but yes to the black beans you get a great LowER Carb meal. (A small portion of black beans adds 8g carbs, not too bad!) 😍

You can also check out their Nutrition Calculator online and build up your meal beforehand so you know how many carbs are in your meal. They also have salads on their menu that you add extra protein too.
Check out Mad Mex Nutrition Calculator here
Same rules apply at GYG (Guzman Y Gomez). 👍 Add extra protein to your salad and order a Naked burrito sans rice and beans Guzman y Gomez Mexican Taqueria
Heading out to a Mexican Restaurant?
We have you covered! Check out Luke's blog sharing some tips on how to eat Low Carb when dining out for Mexican.
My top pick! I order Fajita's without the tortilla wraps. You can all the cheese, salsa and additions with a sizzling plate of beef/chicken/prawns mixed with onion and capsicum. DEEELISH!
---
Low Carb Lover Profile
Jodie Carter Purchall
My journey began back in 2015 when I discovered I had an under active thyroid. I was 40kg over weight but hadn't really given my health the focus it deserved in a very long time. I was a carb monster!
I went on to lose 40kg in 6 months following a VLCD. I've maintained that loss easily with the help of these amazing products and a low carb lifestyle.
The transition for me has been so easy and discovering that I can still eat the things I used to love, only differently, has been the best thing!
I'm a cook for a living, so my choices have now been implemented in my everyday life and the little people I cook for every day.
I love my healthier lifestyle.

---
Low Carb Snack Idea

Snacking can be the hardest thing when you are living low carb, as most convenience foods are packed full of sugar and carbs. Each month we will bring you a super simple snack idea for you to try!
Low Carb Anzac Biscuits 3g carbs per biscuit.
---
Low Carb Recipe of the Month
Low Carb Hot Cross Buns.
Don't miss out on your favourite Easter treats. Enjoy our Low Carb Hot Cross Buns for a Easter morning brekkie!
Monthly Goals
What are you working towards this month? Once you know what is it is you want to achieve, then you can commit to it and get into action. It's also great to reflect back on what you loved in the previous month and noting something to look forward to in the future, this will keep you excited along the way.
We want to help our community achieve their goals and feel their best. The template below is to help you get there.
Top Priority this month is:
Little daily action to help me achieve my goal:
What I am looking forward to this month:
What I loved about last month was:
---
Coffee & Cake with Anna and Jo
Over the past month…
5. What do you look forward to at Easter?
Anna: The long weekend to take time out, reflect, relax and recharge.
Jo: Spending time with my nieces and nephews and Hot Cross Buns with a cuppa for brekkie. Since Anna came up with the Low Carb Hot Cross Bun recipe I feel even better about having them for brekkie on Good Friday and Easter Sunday, toasted with LOTS of butter.
4. What's been your favourite Low Carb snack?
Anna: My all time faves are Roasted, Salted Macadamias from Coles, and I have been indulging in quite a bit of Low Carb Peppermint Slice too! Both go so well with a nice black coffee.
Jo: I would say this is a LowER carb snack. The Power Crunch range of protein bars. They are wafer bars (similar to KitKat) but bigger and they taste NOTHING like a protein bar, which is why they are great. 1/2 a bar with a cup of tea or black coffee is all I need. Favourite flavours are Peanut Butter Fudge and Peanut Butter cream.
3. What do you do to stay motivated to be active?
Anna: Thinking about and focusing on how great I feel after I exercise really motivates me. When do you ever exercise and regret it?? I love feeling strong, lean & flexible which are all the things that Yoga help with. Nothing beats feeling great - no matter what happens during the day or week, when you feel strong and great within yourself everything else is manageable.

Jo: I came across something that said the only workouts that you regret are the ones you never do. So even if I aim to to one thing active each day I feel good. My goal with my training is to stay strong, mobile and injury free as I age. I want to be able to walk, skip and hop to my letter box and back when I am 102. :)
2. What do you love about baking?
Anna: The end result :) I can't imagine starting my day without Low Carb Peanut Butter toast and my black coffee, I can't imagine a weekend without Pancakes, and I can't imagine a Friday night without guilt free Pizza!!
Jo: They are 2 types of baking i do and both give me different feelings. My weekly meal prep baking. This makes me feel good about the week ahead. Then there is the creative/ relaxing baking, this is normally where bake sweet stuff or experiment with new recipes. This type of baking relaxes me, as there is no real reason except to enjoy the process. Most times they turn out well. The Biscotti recipe came from one of these sessions. This is my favourite thing to do on a quiet weekend at home, or chill time between study blocks.
1. What was your biggest win last month?
Anna: Finalising some new and exciting packaging that will be launching in May, Creating the Low Carb Peppermint Slice recipe and also finally merging our 2 brands into PBCo so we can focus all our resources and energy together!
Jo: Nailing 2 assessments, achieving 100/100 for both. Having not studied in a while, it was the best news and boost to keep me motivated.
---
We want to answer your questions!!
Hit us up with any question you have for us - each month we will choose the top 5 to answer - email your questions to: hello@lovepbco.com
Want to find out a bit more about Anna and Jo?
Click here and head to their bio's to find out why they live and love low carb!
Click here if you missed our first Low Carb Living Newsletter
Dealing with setbacks and injury
Back in early February, not long after I excitedly bought my entry to the Ben Nevis Ultra-Marathon held in Scotland later this year, that I flared up an old back injury whilst on a relatively easy ...
Read more