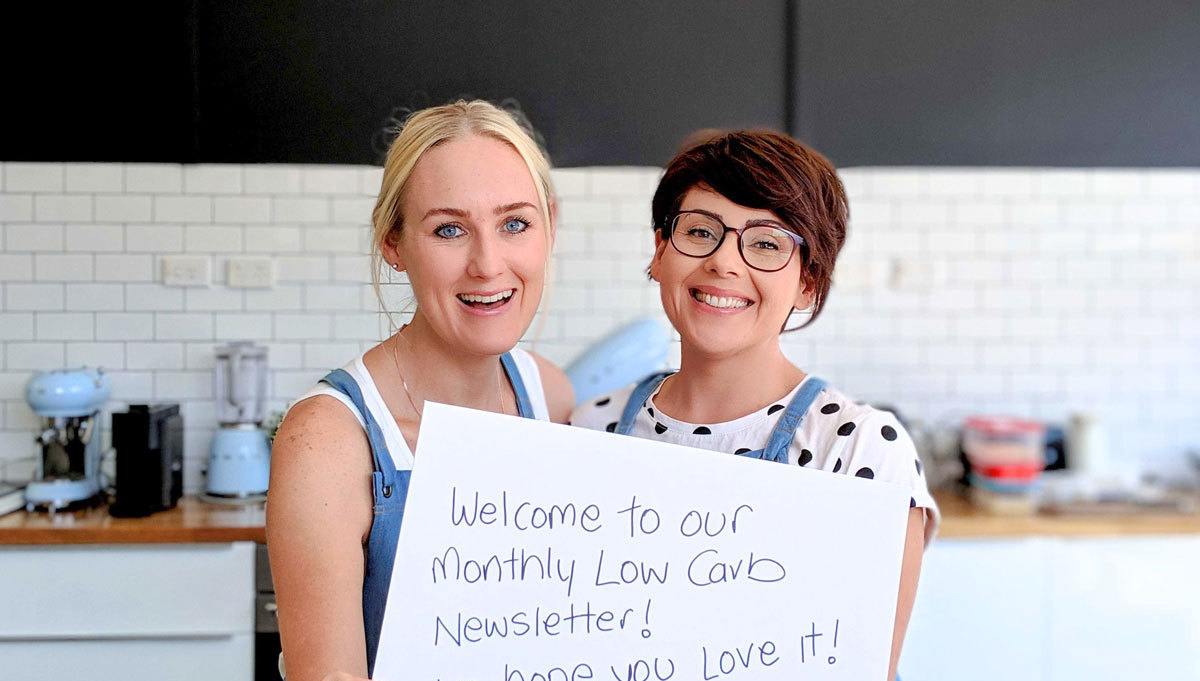 The Low Carb Newsletter - March
Welcome to the first edition of our Low Carb Newsletter!
Our goal each month is to find the latest and greatest Low Carb products, places to eat, information, and inspiration for you.
Everything we talk about in the newsletter we have personally tried, tested and love.
Jo & I have both been passionate about Low Carb Living for the past 10 years, after it dramatically changed our lives, in different ways, from increased energy & clearer minds to weight loss & maintenance.
We understand that Low Carb means something different to everyone.
Some people may be trying to achieve less than 20g carbs per day, and be more focused on Keto, and some others may simply be trying to reduce the amount of sugar and carbs in their diet. We have a zero judgement policy, meaning that we respect that everyone is different, has a different lifestyle and different goals. If you are striving to reduce the carbs in your diet, by however much, we are here to help & support you :)
I hope our Low Carb Living Newsletter really helps to fast track your results, helping you to achieve your health goals, and feel your best, whilst enjoying the journey!
This month's features
---
The Top 5 Fruit and Vegetables in season in March.
Each month we will feature what low carb fruit and vegetables are in season.
🍑 Fruits
Lime - 1g
Passionfruit - 6g
Guava - 4g
Plum - 7g
Figs - 8g
All figures are carbs per 100g.
🥦 Vegetables
Swiss Chard - 1g
Bok Choy - 2g
Broccoli - 1g
Green Beans - 3g
Tomatoes - 3g
For the full list, visit: https://lovepbco.com/which-low-carb-fruits-vegetables-are-in-season-in-march/
References:
---
Supermarket Product of the Week
SEEDED CRACKERS

There are now 2 great seed cracker options available in the supermarkets.
Yes - you totally can make them yourself, you can check out our recipe here. However, if you are just too busy to get spare time in the kitchen, or you're taking a cheese plate to an event, or it's 5pm on a Friday and you need cheese, crackers and wine NOW - check out these 2 great ready made options!
Carmen's Crackers - Coles - $3.80/80g pack

Ingredients (Pepita & Poppyseed Variety): Seeds 50% (Linseeds, Poppy Seeds 11%, Sunflower Seeds, Sesame Seeds, Pepitas 8%), Grains 30% (Quinoa, Brown Rice), Sunflower Oil, Linseed Meal, Sea Salt, Baking Soda, Natural Rosemary Extract.
Carbs/100g = 23g
They are definitely not as low carb as the home made variety - however they are the lowest carb cracker available at Coles. They're super tasty and feel really nutritious eating them. I often have half a pack of these with slices of cheese for lunch.

You can look at it, as they are expensive crackers, or as I do, half a pack with some cheese slices for lunch is quite a good value lunch!
Olina's Gluten Free Crackers Pepita - Woolies - $5.00/100g pack
Ingredients: Pepita Seeds (45%) Sesame Seeds, Flaxseeds, Psyllium Husk, Salt, Modified starch (1442)
Carbs/100g = 1.2g - Yes they are super low carb and very filling!
There are 2 varieties in the seed crackers from this company - they also do some other crackers that are not Low Carb - so make sure you are getting the seed crackers only!
---
Low Carb Living Tip
When you're out at breakfast or brunch with friends, don't feel like you need to order a huge brekkie.
I always order 3 or 4 sides - this way your meal won't come with the tempting toast, and you know exactly what you're getting.

My faves are Haloumi, Bacon, Chorizo, Eggs, Spinach and Mushies.

Other great Low Carb sides are: Avocado, Feta, Sausages, Tomato.

Always avoid: Potato, Hash Browns, Toast, Baby Chats, Corn, Sauces and Relishes

---
Eating Out… Burgers!
Grill'd Low Carb Bun on any Grill'd burger.

Just because we choose to live low carb, doesn't mean we don't enjoy going out for burgers. Thankfully, these days it is getting easier to find a low carb option that gives us the burger experience!!

You can order your favourite Grill'd burger and opt for a Low Carb Bun. The other great thing about Grill'd is their online carb counter. If you are a person who likes to check the menu online beforehand (like me) then you will love this feature.

Grill'd Burgers ONLINE CARB COUNTER and Nutritional Info

Pick the burger that fits into your carb allowance for the day or grab a naked burger if the low carb bun doesn't tickle your fancy.
Maccas "Naked" Burger
Yep that's right - you can now order a burger at Maccas without the bun! Hats off to Maccas for moving with the times and giving us the genuinely healthier options we want.
What I love about Maccas is that it's so super convenient, you always know what you're going to get, AND they are everywhere!
Even if you choose the Naked Burger from the Create Your Taste menu - you still need to be careful about the fillings - here are my top picks.
✓ Great Low Carb Burger Fillings
Beef or Chicken (choose grilled not crispy), any cheese, Bacon, pickles, onions, salt & pepper
✓ Higher Carb Burger Fillings
Pineapple, Relish, BBQ or Tomato Sauce
---
Low Carb Lover Profile - Kirsty Wilton
After my fourth child I found it increasingly hard to maintain my weight. With my hormones all out of whack it became even trickier! After trying low fat diets with no steady results I began reading loads of low carb blogs and then came across Anna's Low Carb Kitchen & The Protein Bread Company.
My low carb journey began, and within a few weeks I was losing weight, gaining energy & before long was back to my pre baby weight, maintaining it for the past 5 years.
I haven't looked back and I'm enjoying lots of yummy guilt free treats. I love baking and now I'm also able to help my family and friends out, inspiring them to make healthier choices too, by sharing these yummy treats
---
Low Carb Snack Idea

Snacking can be the hardest thing when you are living low carb, as most convenience foods are packed full of sugar and carbs.Each month we will bring you a super simple snack idea for you to try!
Macadamias - $8.50/200g bag
Macadamias are one of the best low carb snacks. Low in carbs but high in good fats they keep you full and are great for your skin and hair!
I actually much prefer the coles brand to these woolies ones - I find the coles brand (in the red foil pack in the snack/nuts section) are the absolute best - well roasted and salted. You can also try the pick n mix nut sections but I find when the macadamias have been open for an amount of time, like they are in these big bulk bins, that they are not as fresh and tasty.
To help with portion control, you can make up this 200g bag into 4 or 6 snack packs. I find this amount keeps me full for ages - sometimes this will be my brekkie with a nice black coffee. I'm sure everyone gets this but just for the recorded honey roasted macadamias (or any nut) are not low carb!!
Now you may think Macadamias are expensive, and compared to some other nuts they are, however if you are to make this bag up into 4-6 snack packs - each pack will cost you around $2 - which is a pretty great value snack!
---
Low Carb Recipe of the Month
Low Carb Cheesy Vegemite Rolls.
Inspired by the Cheesymite scrolls found at Baker's Delight, but with a fraction of the carbs!! The perfect brekkie or snack on the go.
---
Monthly Goals
What are you working towards this month? Once you know what is it is you want to achieve, then you can commit to it and get into action. It's also great to reflect back on what you loved in the previous month and noting something to look forward to in the future, this will keep you excited along the way.
We want to help our community achieve their goals and feel their best. The template below is to help you get there.
Top Priority this month is:
Little daily action to help me achieve my goal:
What I am looking forward to this month:
What I loved about last month was:
---
Coffee & Cake with Anna and Jo
Over the past month…
5. What's been your favourite meal?
Anna: Going to Grill'd for Valentines Day dinner - I always order the Mustard/Pickle Burger on Low Carb Bun and get a glass of Rose :) Simple pleasures!!
Jo: This may not sound exciting, but it's been my go-to most nights and I am obsessed with it. Our Low carb Sunflower and Linseed bread toasted with melted cheese with a bruschetta topping. I can't stop eating it! :D Its quick, easy and tasty.
4. What exercise have you been enjoying?
Anna: I've been loving my Bikram Yoga, I took a short break after Lily was born, and we moved a bit further away from the studio, but I recently made some changes meaning I can go to Yoga every friday arvo. Best way to start the weekend - I love feeling strong, flexible and peaceful.
Jo: My new legs resistance program. Due to a recent injury, my program was modified and I was so worried that I wasn't going to be able to train like I was. I am surprised with how much I am still able to do and that I can still go heavy.
3. What's been your biggest struggle?
Anna: Getting enough time to myself! I'm the kind of person who really needs a lot of time by myself to process all my emotions and also think about everything!! This month has been a bit hard, and I felt like I haven't had enough time. Still working through this, as obviously with a small bub I do have a lot less time by myself, but little things like Yoga on a Friday are something to look forward to.
Jo: Making time for new goals. I decided to take on 2 part time courses outside of work. Learning to speak French and an extension course for my Weight loss coaching certification. Allocating enough time to give them both the attention they need, as well as keep up with my training sessions, downtime etc has been a struggle. I'm just juggling a new timetable, I am the 2nd week into it so far I feel like I am on top of it (for now, anyway) :)
2. What's been your biggest win/Happy moment?
Anna: This is a work win, but we recently had our large annual food safety audit, which falls under me, and my production/QA team has done such an amazing job of implementing the systems over the past 12 months that we passed the audit with flying colours :) It's always even more of a win when there's a great result, which the team achieved not just me!
Jo: The timetable (for the above) Last week when I went through the first run of my new schedule it felt amazing, and I contacted my course advisor for feedback on 2 assessments, and he was very happy with the direction I was taking. This was huge for me, when you study via correspondence you sometimes doubt yourself as you have no one to bounce ideas off.
1. What's been your best, recent Low Carb discovery/realisation?
Anna: Denada Ice Cream!!!! My sister bought me a few tubs for Christmas, and I have to say, they are all amazing. These guys have absolutely nailed the formula, using a mix of real cream, coconut & almond milk & a little xylitol to sweeten. It's super creamy just like ice cream should be. So far my fave is the Vanilla, followed closely by Peanut Butter, then Choc Mint. Unfortunately, I haven't been able to try the Double Choc as it's always been sold out :( You can find your closest stockist here: https://www.denadaco.com/wheretofindus
Jo: Denada Ice Cream x 2 (thanks to Anna) haha! I love ice cream (I mean really, really love) and unfortunately the Peter's no sugar range doesn't like my belly very much! When Anna posted the Denada I went searching for my local stockist. Peanut Butter is my fave, followed by Vanilla - I still have to watch how much I eat, because I can easily do ½ a tub in one sitting.
---
We want to answer your questions!!
Hit us up with any question you have for us - each month we will choose the top 5 to answer - email your questions to: hello@lovepbco.com
Want to find out a bit more about Anna and Jo?
Click here and head to their bio's to find out why they live and love low carb!