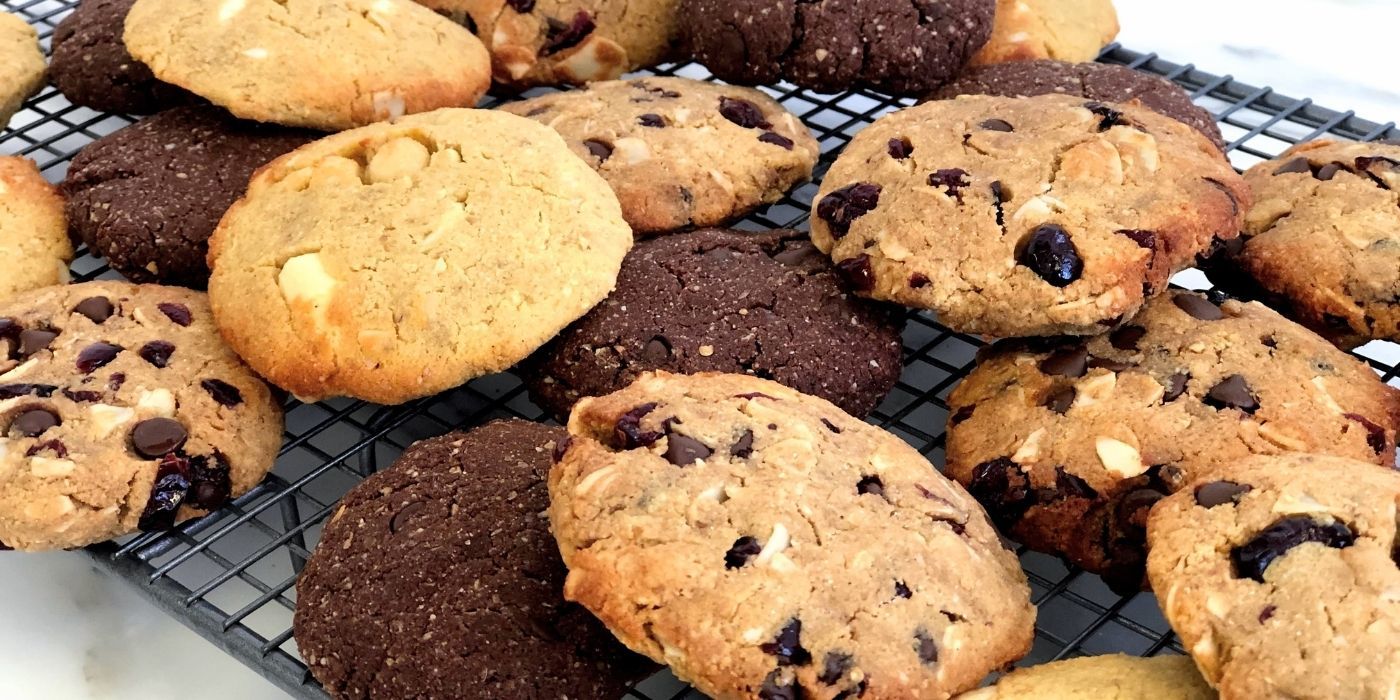 Gluten Free Cookies - 5 Great Recipes
Just because you are gluten-free, doesn't mean you have to miss out on the joy of cookies!!!
We're not talking about gluten-free cookies that you find in your supermarket aisle either. Supermarket gluten-free cookies, whilst convenient also come with some of the longest lists of ingredients. By baking your own, you can be sure that you know exactly what is in each one. Baking a batch of gluten-free cookies is one of the EASIEST (and most enjoyable) things to do. Combine all your favourite cookie additions into our perfectly blended gluten-free cookie mix and create the perfect cookie, every, single, time!
If you are looking for fast and easy snack ideas, we have 5 great healthy gluten-free cookie recipes that would make a handy snack or quick breakfast on the go.
Not only are these cookies gluten-free, but they are also low carb with no more than 5g carbs per cookie and packed full of healthy fats & protein making them ideal for a nutritious and filling snack or brekkie that will keep you satisfied.
Let's jump right into this list...
Protein Choc Cranberry Cookies are the perfect gluten-free, low carb + high protein snack.
We added flaked almonds for extra CRUNCH and because a healthy dose of good fats means you will keep full for longer.
Nutrition per cookie: Carbs 4g -Fat 13g - Protein 9g
Our Apricot Almond Protein Cookies were inspired by the flavours of Apricot Coconut Slice Squares – remember them?
Enjoy these low carb, gluten-free cookies for a healthy snack or brekkie on the go.
Nutrition per cookie: Carbs 4g -Fat 16g - Protein 9g
Are you looking for a gluten-free sugar-free snack that is healthy and satisfying to tie you over until dinner time?
These White Choc Macadamia Protein Cookies will satisfy your 3 pm snack attack and they're keto-friendly too!
Nutrition per cookie: Carbs 3g - Fat 16g - Protein 9g
As you know, we love all things Peanut Butter and this is the perfect brekkie on the go.
Super nutty in flavour, and super low in sugar. But WHY limit these gluten-free cookies to breakfast, enjoy them as a healthy snack any time!
Nutrition per cookie: Carbs 5g - Fat 12g - Protein 9g
Double Choc Cookies will satisfy your afternoon chocolate craving! These cookies are sugar-free, gluten-free and super tasty.
Choosing a snack that is high in protein and healthy fats means you will be full for longer and that extra choccie hit means you can still have fun!
Nutrition per cookie: Carbs 3g - Fat 12g - Protein 9g
---
Who knew that gluten-free cookies could be so good for you!
You don't need to be a master in the kitchen. Have these cookies in the oven, and out in under 30mins!
The greats thing about our Low Carb & Protein Cookie Mixes are not only naturally gluten-free, but they've also been perfectly blended to take the guesswork out so you can have an easy baking experience and bake with confidence.
Our cookie mixes are packed full of healthy ingredients, contain no added sugar and make the perfect gluten-free, low carb base for ANY of your favourite cookies recipes. Simply add in your favourite cookie mix-ins like choc chips, M&M's, dried fruit, nuts, coconut, seeds etc… Now the question is what cookie are you going to bake first??? 1 mix = many, many different cookie adventures!
🍪 🍪 A balanced diet is a cookie in each hand! 🍪 🍪
The Best Low Carb Noodles & Pasta
Typically on a Low Carb Diet, you expect that Noodles & Pasta are off limits....Until now! Whilst we know that these aren't like for like to real pasta, I do think these are great substitut...
Read more
Gluten Free Cakes - 5 Easy Recipes
Cake shouldn't be off the menu just because you are gluten-free! Gluten-free cakes often get a pretty bad wrap for either being too dry, gummy or packed full of ingredients that aren't great a...
Read more