Which Low Carb Fruits & Vegetables are in season in November
Know ahead of time before picking up your weekly groceries by checking out what low carb fruit and vegetables are at their best in November
Low Carb Vegetables in Season in November
Asian Greens

0.6-1.2g carbs / 100g

Bok Choy, Gai Lan, Choi sum to name a few. These veggies taste fantastic stir-fried, with a little garlic, soy and chilli. Add them to your favourite stir fry.

Asparagus

1.4 g carbs / 100g

High in vitamins A, C and K., These taste great when they are char-grilled. Pop them in a stir fry, omelette. Wrap these in prosciutto and pop them on the barbie!

Zucchini Flowers

1.9g carbs / 100g

You will find these in Meditteranean cooking mostly. The flower part of this vegetable is what is commonly stuffed with feta, ricotta, minced prawns etc. Baked or Fried. If you are new to this vegetable, check out the recipe for stuffed zucchini flowers with bacon, mushroom and ricotta 😍

Cucumbers

2 g carbs / 100g

These are a great addition to any salad and are good sources of fibre, particularly in the skin. They are super yummy as a quick snack sprinkled with a little salt and pepper.

Chillies

1.0g carbs / 100g

Add a spicy kick to your favourite dishes. They come in different levels of heat. Check out this great blog to pick the best chillies for any dish.

Green Beans

2.7 g carbs / 100g

Stir-fried with a little butter and garlic. Greens beans are super delicious! They are a good source of fibre, potassium, and folate, and are an excellent source of protein, iron, and zinc.

Watercress

0.8g carbs / 100g

If you are like me, you may have only come across watercress used in a soup in the Roald Dahl book The Witches. However, it is also used in salads. Make sure you remove the thick stem before mixing in with your other greens.

Zucchini

1.6 g carbs / 100g

The Zoodle craze has put zucchini in the spotlight for low carbers, used as a low carb pasta/ noodle substitute. They are also a great addition to stir-fries, grilled, or added to a bolognese.

Spinach and Silverbeet

0.7-1.1g carbs / 100g

I popped these all together as are used in similar ways to each other, although you use raw baby spinach leaves in a salad

Green onions (Shallots)

3.2g carbs / 100g

Immature onion with a thin cylindrical white base, and long dark green stalks. Sprinkle thinly sliced green shallot over a laksa or noodle dish to serve.

Spring Onions

4.6g carbs / 100g

Small white immature onion with long thin green stalks. When these are roasted, they become super sweet. Use them in place on onions in recipes, great in salads and soups.
Fruits in Season in November
Avocado

0.6g Avocado carbs / 100g

Yep, it's a fruit. Although mostly used in savoury dishes. Packed full of goodness and yummy on Protein Toast. 😋

Blueberries

10 g carbs / 100g

Blueberries are known for being a 'superfood' as they are packed full of goodies. Find them fresh or frozen (frozen are great for baking) Superfood or not, they are delicious with greek yoghurt as a healthy snack. Per 1/2 cup blueberries have 8g carbs.

Grapefruit

5.4g carbs / 100g

This is known for being a semi-sweet, somewhat bitter fruit. I prefer the ruby grapefruit to eat, as they are slightly sweeter, and they taste great in a cocktail 😜

Pineapple

8.2 g carbs / 100g

Pineapples are a tropical fruit that is rich in vitamins, enzymes and antioxidants. They're super delicious. Add it to burgers, pizzas, grill it or simply eat it as is.

Mulberries

4.3g carbs / 100g

Mulberries are colourful berries that are eaten both fresh and dried. They're a good source of iron and vitamin C.

Loganberries

4.9g carbs / 100g

They are a hybrid blackberry and raspberry. Enjoy fresh or make some sugar-free berry jam.

Strawberries

3.9g carbs / 100g

1 punnet of strawberries has under 10g of carbs, they are such a great low carb snack. Pop them in salads, your baking or may sugar-free strawberry chia jam.

Papaya

6.9 g carbs / 100g

Papayas are high in potassium and vitamin C. They are high in fibre and help aid digestion. Enjoy in a salad, but it's delicious on its own.

Passionfruit

5.7 carbs / 100g

Passionfruit are tasty as they are, but can be used in cocktails (yes, please!), baking and just mixed through yoghurt or cream.
Carbs per 100g serve (Food Standards Australia New Zealand)
REFERENCES:
https://www.sydneymarkets.com.au
https://www.foodstandards.gov.au/industry/npc/Pages/default.aspx
Baking some treats for Halloween? Make a batch (or 2) of our Simply Low Carb Cupcakes. Choose either Chocolate or Vanilla and have some fun with our icing. Pumpkin Cupcakes. Ingredient...
Read more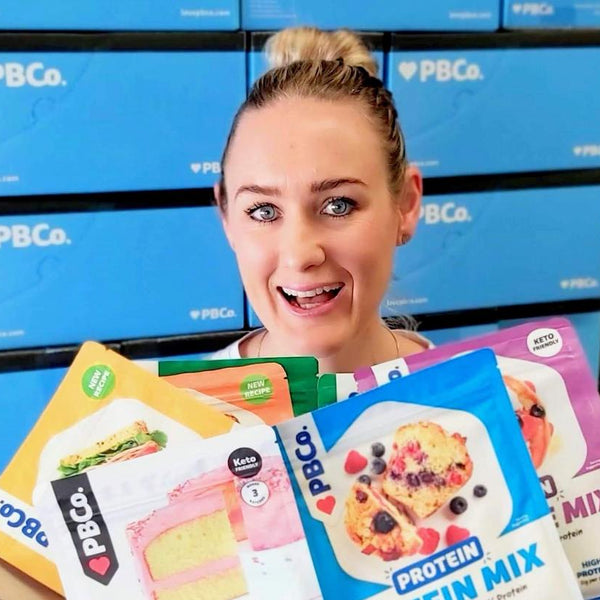 Hey everyone, I'm Anna, Founder of PBCo. (previously The Protein Bread Co). I'm back on deck after having some time off with the birth of my little girl Lily and am as passionate as ever ab...
Read more