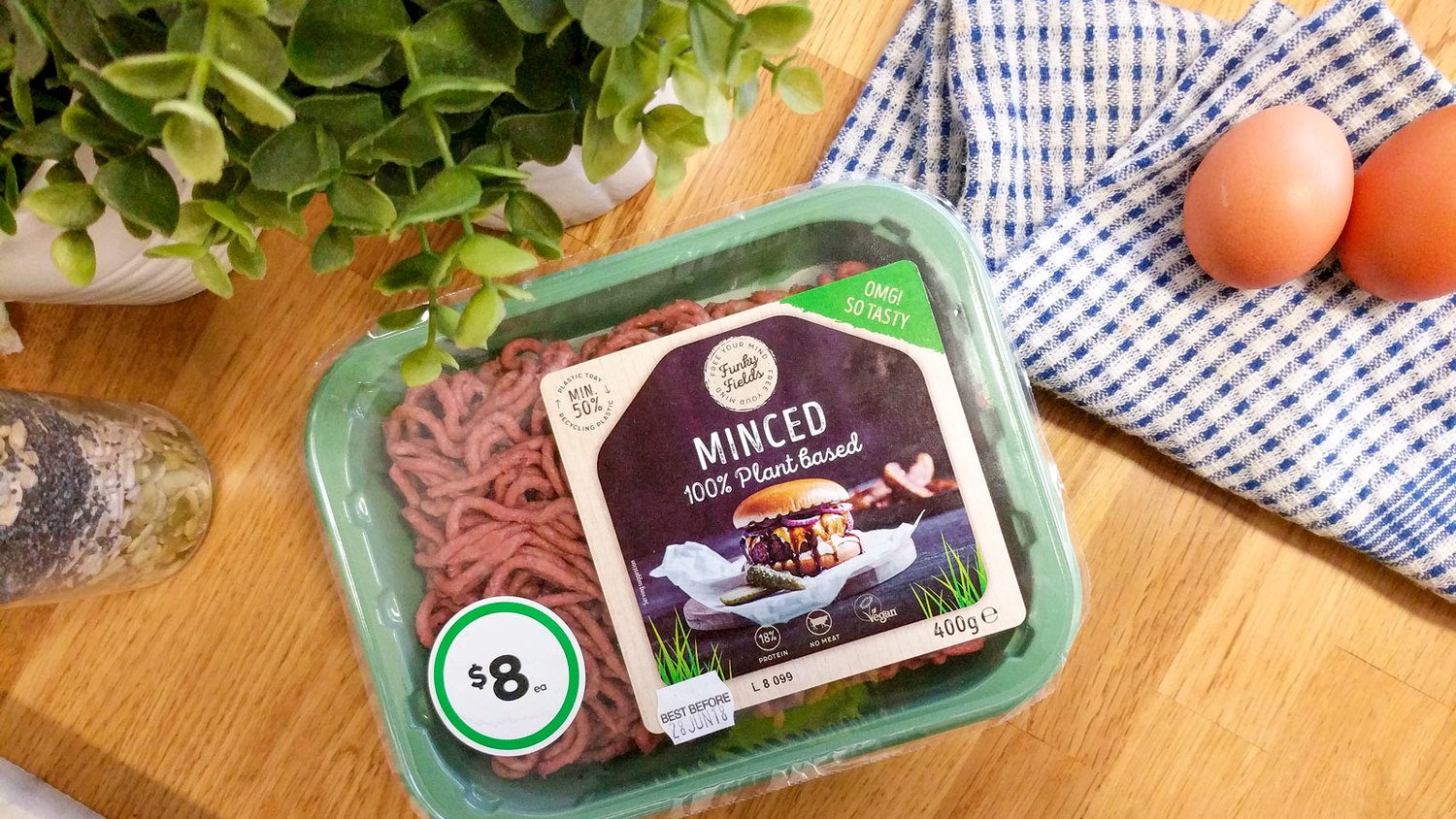 100% Plant Based Mince ? by Funky Fields // Product Review
"Fake mince! What's this all about"
I thought as I stood, starting at the open fridges of the 'meat' section in my local Woolworths. Curiosity well and truely got the better of me, I just had to see what this Plant Based Mince was all about! I've seen lots of news and things popping up about meat replacements, the most common one being the "
Impossible Burger
" – a chain of meat free burger joints in the states, but other than the horrid looking vegan sausages and fake bacon that's been around since the 90's, I hadn't seen anything new in this space for a while (not that I was really looking that hard). This 400g pack of 'mince' looks almost exactly the same as a very finely processing mince beef. So much so that if you weren't paying attention, you could almost purchase this by mistake thinking it was actually beef.
How did I make this Plant Based Mince up to try?
I wanted to make a recipe which would really allow the product to show through. Spaghetti Bolognese would just be too strong a flavour that you wouldn't be able to taste the 'mince' so I opted for a good ol' fashioned rissole. My goal with this was to treat it as a 1 for 1 substitute so I made it up exactly as I would a normal beef rissole; 2 eggs, tomato sauce, salt and pepper, and a few tablespoons of our
Protein Pizza Base mix
(just to hold it together).
This Plant Based Mince really does look like the real deal! Not butcher quality chunky beef mince, but a finely processed beef mince. It could easily fool you on looks, but let's find out about taste.
The mince held together quite well, and felt much the same to make into rissoles. I then dusted them in a bit of Protein Pizza Base mix to stop them from sticking to the grill.
So, how does the Plant Based Mince by Funky Fields taste?
Up until this point it was all puppies and rainbows. The product smelt nice, it looked like mince, it behaved like mince, but where it counts the most – taste, it really fell down ? Now I'm about as far from a vegan or vegetarian as you can get, so I'm definitely going to be comparing it to some juicy juicy delicious beef burgers I've had in the past. But even being hugely charitable and adjusting for my cognitive bias, these are dry and bland at best. The taste of this Plant Based Mince wasn't bad as such. It just didn't taste of anything really, and that's not surprising given the ingredients which we'll have a look at below. Texture wise it was quite dry and needed ALOT of tomato sauce to make it palatable. This was made even worse the next day when I attempted the other two, reheated in the microwave. Being kind, I think if you did make spaghetti bol, maybe it would be ok as it would absorb all the flavour from the sauce, but as a burger… not so much.
So, what is in this Plant Based Mince by Funky Fields?
These ingredients listed are:
Rehydrated SOY protein/-isolate (58 %), water, coconut oil, SOY flour, WHEAT gluten, ALMONDS, penny bun mushroom powder, tomato, fermented dextrose, tapioca starch, salt, malt extract (BARLEY), colouring (beetroot), natural flavouring, maltodextrin, stabiliser (methylcellulose)
Hmm. So now you can see why it didn't taste of much – about 60% of the ingredients are just soy. I'm not going to break it down ingredient by ingredient here because the ingredients are relatively straight forward, albeit undesirable (to me). Ingredients are taken from the packaging on the 12 July 2018 and may differ to what you see on yours.
Nutritionally speaking, how does this Plant Based Mince by Funky Fields compare?
Nutritionally it's not too dissimilar to regular beef or pork mince which I imagine is a deliberate thing.
Per 100g:
✅ Energy: 814 kJ ✅ Protein: 18.0g ✅ Fat: 10.0g ✅ Carbs (total): 6.2g ✅ – Sugars: 1.5g Information taken from packet. 12/07/18
Let's compare that to 100g of lean beef mince:
⏺ Energy: 903 kJ ⏺ Protein: 19.0g ⏺ Fat: 15.0g ⏺ Carbs (total): 0g ⏺ – Sugars: 0g So, as you can see, the protein level is quite similar and it is lower in fat, but higher in carbs compared to lean beef mince.
Did it deliver on it's promise?
For me, no. I was expecting a delicious juicy rissole and it did not deliver. I really do respect what they're trying to do here and maybe coming at it from a vegan's perspective it might be more enticing, but as far as a substitute or replacement for meat, it's got a LONG way to go!
Where can you buy this Plant Based Mince?
I picked this one up in my local Woolworths, but I'm sure you can buy it elsewhere. It was $8 for a 400g pack which works out at $20/kg which is definitely more expensive than beef, but not out of the question.
Have a product you want to see reviewed?
Let me know by commenting below! I'm always keen to see what you guys find and I love food :) All these reviews are just of products I've found myself and loved… or not loved. None have or will ever be paid promotions, that's just not my bag. Cheers, Luke
Wondering how to start low carb living? The tips below are to help make the transition super simple. Regardless of your reason, these EASY steps will help you get started. Before we dive into the ...
Read more