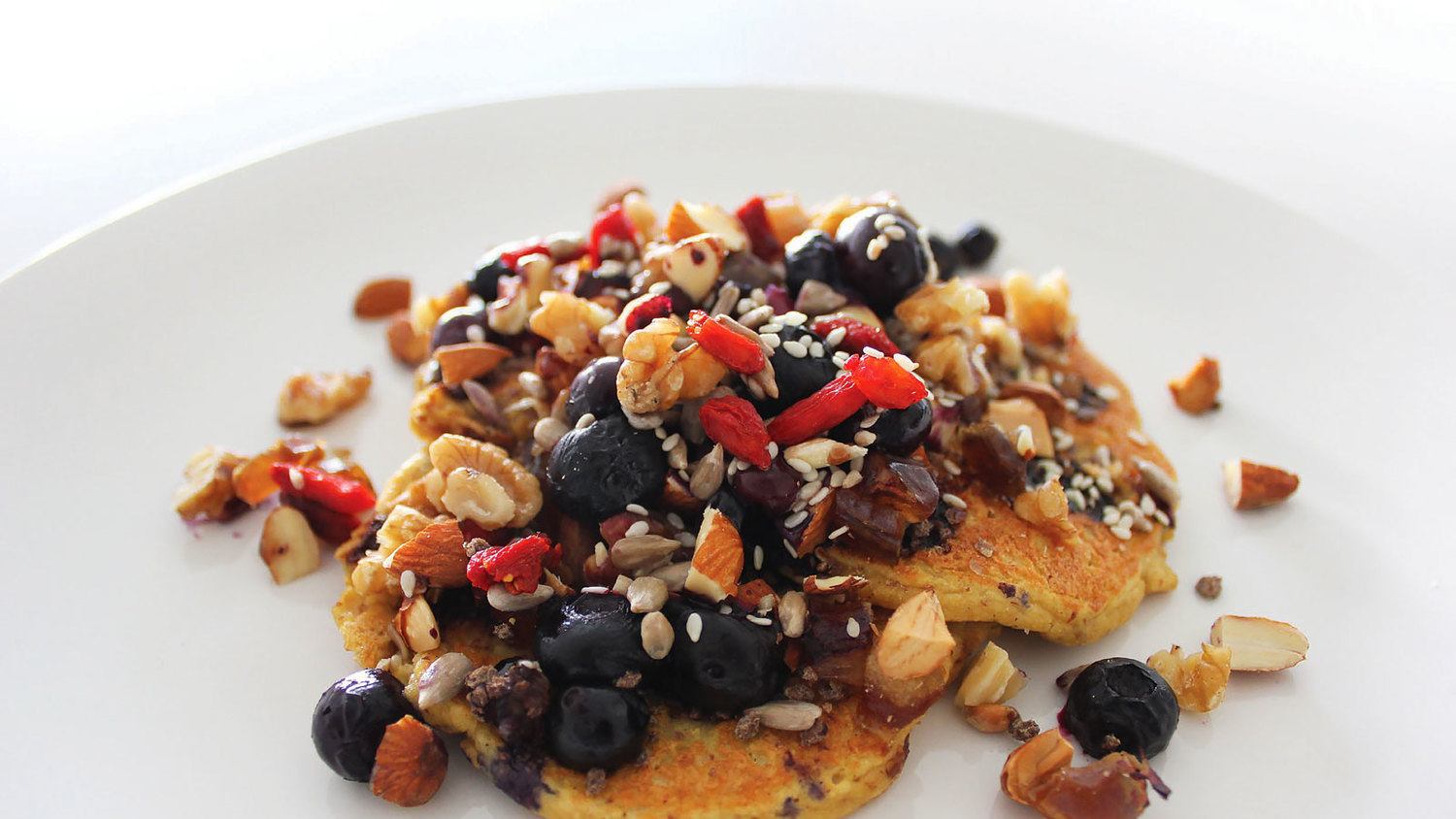 Vegan Protein Pancakes
With the launch of our new Plant Based Range, we wanted to ensure that our vegan friends have an opportunity to enjoy all the benefits of our nutritionally superior products, too. We have done some testing on vegan-friendly egg replacers and have worked out what would give you the best end result.
Our preferred Vegan Pancake recipe
Ingredients
1/3 level scoop Protein Pancake Mix (39g)
1 teaspoon ground chia seeds OR flaxmeal (5g)
1 tablespoon melted coconut oil (20ml)
1 generous pinch bi-carb soda (1g)
1/3 cup milk of choice (80ml)
Method
Prepare your non-stick pan by giving it a spray or a drizzle with oil (such as coconut, macadamia or olive oil). Heat it up on high until nearly smoking, then reduce heat to medium-low. Following this process seals the pan and prevents the pancakes from sticking.
While your pan is heating, place the pancake mix, ground chia seed/flaxmeal and bi-carb soda in a bowl. We highly recommend using scales to measure the ingredients as the quantities are small, and accuracy is important. Combine dry ingredients well.
Add the milk and melted coconut oil to the dry mix.
Whisk well to combine.
Portion the mix into your prepared pan, forming 3 pancakes roughly 9cm in diameter.
Cook your pancakes on medium-low heat for about 90 seconds. You should see the pancakes fluff up and form firm edges. Once you see these firm edges, you can flip the pancakes. If you try to flip a pancake but it still feels too soft, wait another 30 seconds.
Once all pancakes are flipped, cook for another 90 seconds.
Wondering where to get Ground Chia Seeds?
Our fave is The Chia Co - Ground Chia Seeds –
available online
or at
Healthy Life
stores nationally. They are a great addition to your vegan baking pantry, and they are also full of goodies, including being an excellent source of omega-3 fatty acids, antioxidants, fibre, iron and calcium. Nutritionally they are really good for you – per tablespoon they have 6g fibre and 3g protein!
Unlike traditional Chia 'Eggs' (which are amazing in our Protein Cookies), the ground chia seed provides a smoother egg replacer, without the lumpy seeds, making it perfect for batters like pancakes.
Or alternatively, if you have a great blender or food processor, you could grind up your own seeds yourself instead of buying them already ground.
Our Second preference Vegan Pancake recipe
Follow the recipe above, but replace the ground chia seeds/flaxmeal with 1 teaspoon (5g) of Orgran Egg Replacer.
This will still work well – but this is a higher carb option and not as natural as the chia seed/flaxmeal option. Orgran Egg Replacer is available at most supermarkets.
Serve your fluffy pancakes warm with your favourite toppings, such as coconut yoghurt, berries, banana, sugar-free maple syrup, dark chocolate, nuts or coconut! The options are endless :)