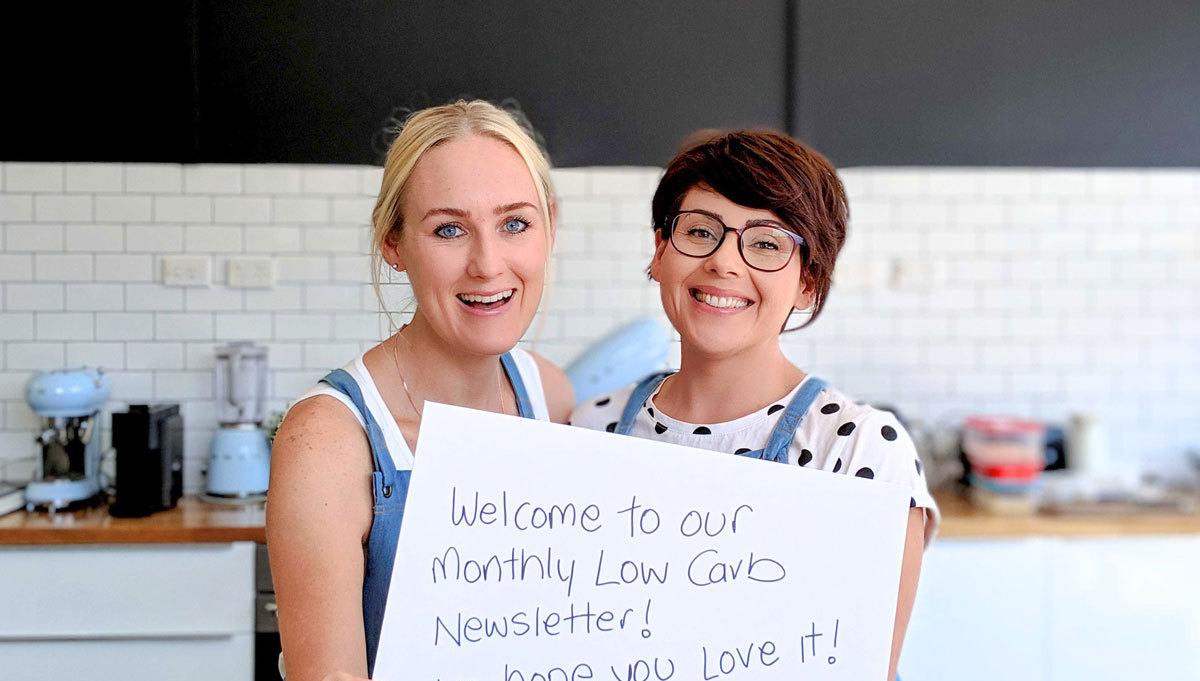 The Low Carb Newsletter - May
Welcome to our monthly Low Carb Newsletter!
Our goal each month is to find the latest and greatest Low Carb products, places to eat, information, and inspiration for you.
Everything we talk about in the newsletter we have personally tried, tested and love.
Jo & I have both been passionate about Low Carb Living for the past 10 years, after it dramatically changed our lives, in different ways, from increased energy & clearer minds to weight loss & maintenance.
We understand that Low Carb means something different to everyone.
Some people may be trying to achieve less than 20g carbs per day, and be more focused on Keto, and some others may simply be trying to reduce the amount of sugar and carbs in their diet. We have a zero judgement policy, meaning that we respect that everyone is different, has a different lifestyle and different goals. If you are striving to reduce the carbs in your diet, by however much, we are here to help & support you :)
I hope our Low Carb Living Newsletter really helps to fast track your results, helping you to achieve your health goals, and feel your best, whilst enjoying the journey!
This month's features
---
The Top 5 Fruit and Vegetables in season in May.
Each month we will feature what low carb fruit and vegetables are in season.
🍑 Fruits
Avocado - 1g
Lemon - 3g
Rhubarb - 2g
Mandarin - 9g
Kiwi - 8g
All figures are carbs per 100g.
🍆Vegetables
Broccoli - 1g
Brussel Sprouts - 2g
Leek - 2g
Mushrooms - 1g
Eggplant - 2g
For the full list, visit: https://lovepbco.com/which-low-carb-fruits-vegetables-are-in-season-in-may/
References:
---
Supermarket Product of the Month
Hot Chocolate and Flavoured Tea

With the cooler months now in swing, I've noticed that after dinner I am back to drinking tea. From time to time I may have a craving for something sweet, even though I know I don't need any more food.

Warm drinks like flavoured tea/ sugar-free hot choc - anything made with water are great choices to stay on track and manage sweet after-dinner cravings because...
Liquid fills the belly (volume)
Sweet fix sorted (even with added stevia or a dash of milk)
You enjoy it slowly - whereas a piece of chocolate or cookie is done in under 10 seconds
I went hunting for some teas/ sugar-free hot chocolate options that would knock that craving on the head :) Here are my top choices!
Drinking Chocolate
Look for sugar-free drinking chocolate, or you may choose to use cocoa powder and you can sweetened it yourself with your favourite sweetener.
Avalanche - sugar free drinking chocolate in the tub, per serve 0.3g carbs (when made with hot water)
Avalanche Sachets - each sachet has 2.9g carbs - they also have a coconut flavour that I have not tried yet.
Flavoured Tea
Flavoured teas, that have no added sugar.
These are my top 3 teas on heavy rotation. These have a "creamier" taste (even though i drink them without milk) it's the vanilla and chocolate flavour that I love.
Twinings - Chai with Vanilla is great. Top tip, double up the bag if you do add milk (its not super strong)
Madame Flavour Range - Mint Choc , perfect without milk. Its soo good. Melbourne Breakfast (black tea with Vanilla) This is a stronger version of T2 Melbourne breakfast which I love but so much cheaper! 👍
---
Low Carb Living Tip
Do you struggle to hit your 2L of water each day, especially at this time of year?
If so, check out the tips below...
Have a plan: 1 before breakfast, 1 on the way to work, 1 with lunch and 1 on the way home. This makes it easier and spaces out your water intake. If a bottle seems like a stretch, add a glass upon rising then before each meal – so you are getting around 5 glasses
Drink WARM water when it's cold: At first, this sounds and tastes strange, however, I promise you will get used to it. I realised I was drinking so much tea and coffee just to keep warm in winter! I started to sip on mugs of hot water in between. It keeps you warm, full, and hydrated! You could add a slice of lemon to add a little flavour.
Herbal and Fruit Teas: There are so many beautiful herbal teas available now – even from the supermarket! Why not try something new? I love peppermint for a great energy boost or liquorice tea to aid digestion. Milky teas are also hydrating, however, keep in mind that the milk does contain calories + carbs so you don't want to go overboard. And definitely NO SUGAR!
For more great tips to help increase your water check out the FULL blog here

---
Eating Out… Pub or Bistro!
Sunday afternoon at your local pub...

Whether you are there for a meal or an afternoon catch up, pubs offer enough options for those that want to stick within Low/ lower carb eating (and drinking)
You also don't have to always order steak either (although, nothing beats a pub steak if you are feeling like it) - I chose to keep in light (chicken and salad, which is always my go-to) - as I was planning on a cheeky afternoon spritz.
Here are the top tips for eating at a Pub...
Look for grilled/ BBQ protein (steak, pork chicken or fish) - Steak and Veggies, Chicken and Salad, Salmon and veggies etc.
Ask for dressings and sauces on the side.
Say no to chips, or mash and ask for extra veggies or salad.
If you know that you may have a cheeky wine/ cocktail - choosing low carb or a lighter meal gives you a little wiggle room.
If you are just catching up for drinks - instead of chips, opt for olives.
Diet mixers or soda with your spirits or your favourite wine.
To find out about what to avoid, and to read Luke's FULL blog, click here
---
Low Carb Lover Profile
Alex Hollyman
My journey began back in 2015 when I booked my dream trip to the USA for the following year. Sitting in the morbidly obese category, the fear and worry set in that I would need a seatbelt extender or that I would be too heavy or too wide for the rides at Universal Studios. I initially lost 30kg using meal replacements to get me to my initial goal by September 2016, but always following as close to a low carb diet as the programme would allow.
My weakness has always been savoury things and carby things, so PBCO Pancakes became my once a week treat, and the breads made great company for soups and a delicious replacement for crackers.

Since 2016, I spent two years maintaining my weight by committing to my fitness, a low carb lifestyle rich in vegetables, lean meats and fibre, and realizing that just about anything can be modified to be a healthier version to fit my lifestyle, even cheese scones - I'm down 40kg total now and maintaining easily thanks to simple low carb swaps and healthier choices.
If it wasn't for discovering the low carb way of eating, I have no doubt I would have regained my weight- but instead I'm getting ready to drop the last 15kg to reach my final goal.
---
Low Carb Snack Idea

Most cookie bars that you buy from the supermarket are around $3 a bar and are loaded with sugar. Our 5 ingredient Cookie bars are ⅓ of the cost and make 20 bars. That is 20 days of deliciousness.
1 packet of Low carb Cookie Base Mix - $10.50
1 cup of unsweetened almond milk - $3.00 - $0.75 (250ml)
Lindt 90% $4.25 (not sale price)
Walnuts (loose) 100g $2.50
70g Butter (based on Supermarket brand - $0.75)
Total: $17.75
Per Bar: $0.94 (40g) 1 bar less than $1.
---
Low Carb Recipe of the Month
Apple and Cinnamon Teacake
Enjoy a beautiful Autumn day by serving this delicious teacake at your next afternoon tea.
Monthly Goals
What are you working towards this month? Once you know what is it is you want to achieve, then you can commit to it and get into action. It's also great to reflect back on what you loved in the previous month and noting something to look forward to in the future, this will keep you excited along the way.
We want to help our community achieve their goals and feel their best. The template below is to help you get there.
Top Priority this month is:
Little daily action to help me achieve my goal:
What I am looking forward to this month:
What I loved about last month was:
---
Coffee & Cake with Anna and Jo
Over the past month…
5. How will you be spending Mothers Day?
Anna: Relaxing as much as possible! Things have been quite hectic recently (and Lily has been teething so sleep has not been a large feature in my life!!!) so I'm looking forward to some nice quiet time, maybe even get a massage!!
Jo: Having a family lunch and spending time with my mum, her partner, my siblings and their kids (there are 17 of us!) It's always loud and lot's of fun.
4. How do you stay motivated to be active as it gets closer to winter?
Anna: Thinking about how great I feel eating the right, low carb foods really helps me to stay on track. I haven't been exercising as much as I'd like recently, so my food choices are even more important! (For my energy levels as well, when sleep deprived the more energy to help me through the day the better!)
Jo: I think of it as it is non-negotiable - you gotta move it or lose it. I try to make all my cardio as my point a to b. Walking home from work or really anywhere I can go on foot, and I pick classes that I actually love doing!
3. What has been your favourite Low Carb food/ meal this month?
Anna: The new Low Carb Pizza Base from PBCo. I always make sure I pack HEAPS of veggies on, but I have been eating Pizza A LOT. How can you not when the base is ready to go?
Jo: Our new ready-made Protein Pizza Base. I think I have eaten Pizza more times in April than I have in most years. It's been fantastic! No bloat, no worries.
2. Favourite Low Carb Supermarket product?
Anna: The frozen Cauli Rice from McCain available at Coles. It's in the freezer with all the other frozen veggies and is SO convenient.
Jo: The Sicilian Green Olives in the Coles self serve olive bar. They are flavoured with garlic and preserved lemon. I have been eating them almost everyday. They are so delicious 10 olives = 1g carbs YAY!
1. What was your biggest win last month?
Anna: Booking a holiday!! I haven't had a holiday in seriously I can't even remember, as I've been so focused on the business for so many years. We're heading on a nice tropical getaway next month, so I feel like that's quite a win!
Jo: It may not sound like a win, but after 4 months of back and forth, I finally have a diagnosis on my leg/ back issue. My training program can be changed and now I can move towards exercising and sitting pain free!!! This is huge!!!
---
We want to answer your questions!!
Hit us up with any question you have for us - each month we will choose the top 5 to answer - email your questions to: hello@lovepbco.com
Want to find out a bit more about Anna and Jo?
Click here and head to their bio's to find out why they live and love low carb!
Click here if you missed our first Low Carb Living Newsletter
Incase you've been wondering what's happened .. Hi Guys!!! I've seen a few comments recently asking if I have "packed up and sold out" of Anna's Low Carb Kitchen, because there hasn't been m...
Read more