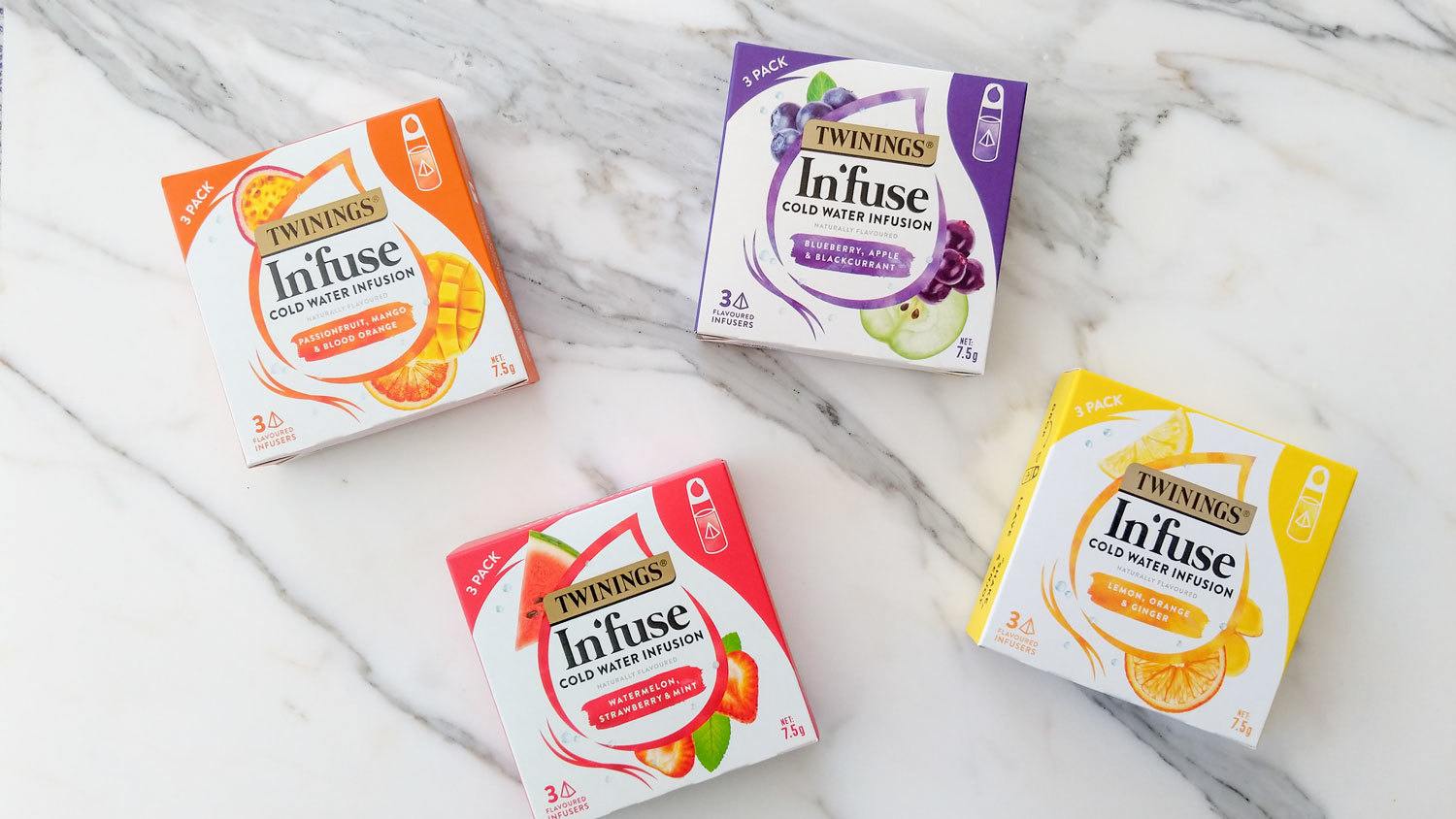 TWININGS Infuse ? Flavoured Water Infusions // Product Review
Do you drink enough water? Probably not, right? I bet you're like me and you know it's good for you, but it's so easy to forget and have
just one more coffee
instead. Well, this new product called TWININGS Infuse just might be the thing to help! It's essentially a tea bag. Ok, that might not be quite doing it justice. It's a tea bag designed to pop into your water bottle to give your water a slightly fruity flavour, but without the sugar, you often find in regular flavoured "waters. It was actually Jo, our Community Manager who put me onto these and I'm so glad she did because they're actually freakin' amazing ?
So first things first, how do TWININGS Infuse taste?
Delicious. So there are 5 flavours in total; 'Passionfruit, Mango & Blood Orange', 'Watermelon, Strawberry & Mint', 'Blueberry, Apple & Blackcurrant', Lemon, Orange & Ginger', and 'Rose Lemonade' and I've tried all of them except for the Rose Lemonade as it was completely sold out at my local Woolworths (it must be good). I love all the ones I've tried except for the Blueberry, Apple & Blackcurrant one. That wasn't as nice as the others and had a bit of an artificial taste whereas the others are all beautifully flavoured and taste pretty "real". For the purpose of the product review, I've used the Watermelon, Strawberry & Mint TWININGS Infuse which is by far my favourite. It's got a beautiful fresh flavour which is just sweet enough to avoid being tart, but not so sweet that it turns you off.
In each box (main picture) there are 3 individually wrapped
teabags
"
infusions
". There are also larger jars which aren't individually wrapped (save on packaging) and have 12 infusions in each jar which also works out to be more cost-effective. The 3 packs are a great way to find out which flavour you like!
Looks like a little bag of potpourri 😂 You just drop it into your drink bottle (I've used a fancy-pants VOSS water bottle so you can see it). The packet says 500-750ml of water. After a few minutes, the flavours really get going and dissolve through the water. Now, I hate to be wasteful so I always look to get the most out of anything so with these teabags I usually 2 or 3 drink bottles out of them before you can't really taste it anymore. If I had to put a number to it, I'd say you get about 80% of the flavour in the first one, 15% in the second and 5% in the last.
So, what is in TWININGS Infuse Flavoured Water Teabags?
The ingredients listed on my Watermelon, Strawberry & Mint TWININGS Infuse are:
Hibiscus, Beetroot, Rosehips, Strawberry Flavouring (9%), Watermelon Flavouring (7%), Orange Peel, Mint Flavouring (1%), Natural Flavouring.
Ingredients are taken from the packaging on the 31 October 2018 and may differ to what you see on yours. So you've got a combination of real ingredients there and then some natural flavours which is to be expected and totally fine. I don't imagine dehydrated watermelon would reinfuse very well! Great to see there's no numbers or artificial sweeteners!
Nutritionally, how does TWININGS Infuse compare?
Now, normally in this section of my product reviews, I'll find the "traditional" comparison product, but with the TWININGS Infuse, it's a bit tricky to decide what to actually compare this too.
Per serve (1 bag), a TWININGS Infuse contains:
✅ Energy: 35 kJ (8 Cal) ✅ Protein: < 1g ✅ Fat: < 1g ✅ Carbs (total): < 1g ✅ – Sugars: < 1g ✅ Sodium: 35mg (all water has some sodium, this isn't added) Information is taken from the packet. 31/10/18 So, there's basically no macronutrient or caloric value here which is kinda what you want from water right? The idea of this product is to encourage you to drink more water and they've nailed it in my opinion!
Did TWININGS Infuse deliver on its promise?
100%. I've been drinking a heap more water since Jo popped these on my desk last week. It just makes water more fun. I usually find I just keep forgetting to drink water because it's so boring but these TWININGS Infuse things make it much more enjoyable. It's a quality product, done exceptionally well, and it delivers on its promises so it's got a BIG thumbs up from me!
Where can you buy TWININGS Infuse?
These are available in both Coles and Woolworths and you can find them in the tea section. The 3 packs retail for $2.00 which works out at $0.67 per infusion. As I mentioned earlier, once you know which flavour you like, grab a jar. They retail for $5.50 and have 12 infusions which work out at $0.46 each.
Love this review? Check out some of my others:
Have a product you want to see reviewed?
Let me know by commenting below! I'm always keen to see what you guys find and I love food :) All these reviews are just of products I've found myself and loved… or not loved. None have or will ever be paid promotions, that's just not my bag. Cheers, Luke