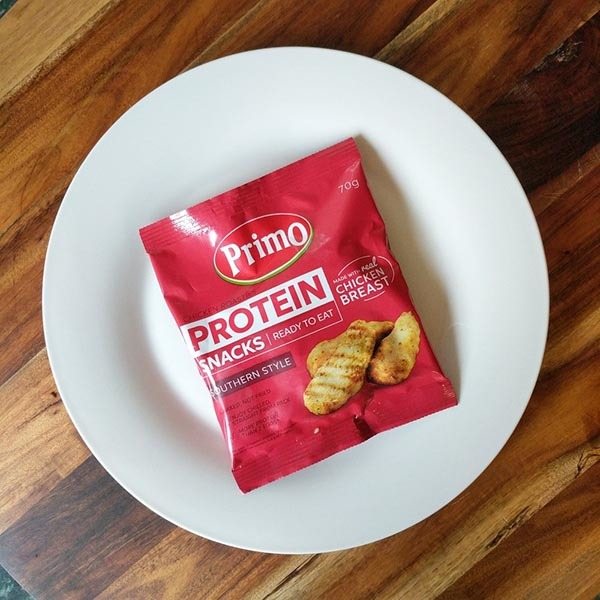 Primo Chicken Roasties Protein Snacks // Product Review
I found these Primo Chicken Roasties Protein Snacks
on sale at Woolworths
the other day for $2 (normally $3) and thought I'd give them a try. I'm always dubious about anything labelled as a Protein Snack – usually for two reasons; 1. They're always too damn small!!! It's like they're made for kids. 2. They're usually filled with ingredients that aren't so natural…
What are the ingredients and nutrition?
The front of pack (known as FOP in the industry – clever initialism there) proudly claims; ✅ "Made with Real Chicken Breast" ✅ BAKED, NOT FRIED ✅ Enjoy Chilled, Straight from the Pack ✅ More Protein than 2 Eggs All these claims stack up and aren't misleading which is nice! Made in Australia is always a good thing in my opinion. One serve (the whole pack – 70g) of these snacks will give you 13.3g Protein, 1.8g Fat, 5.0g Carbs. If you're looking for 100% "numbers free" snacks then these won't be for you. Being a long-shelf life meat product they have used
Preservative 223 (sodium metabisulphite)
which is a common sulphate used in processed meats to extend shelf-life and inhibit bacteria growth. They've also used
Spice Extract 160c
which is simply Paprika extra used as a colouring. No qualms there. And finally, also listed are Acidity Regulators 325, 262. 325 is
sodium lactate
which is used to prevent souring / rancidity as well as to prevent them from drying out – no one likes dry chicken!
262 is sodium acetate
, an additive used to inhibit the growth of harmful bacteria. I know the views on additives are as wide and varied as the number of additives themselves. I'm always a fan of keeping it as natural as possible and a firm believer in "less is more" which is why we don't use any additives or preservatives in our range of delicious
healthy baking mixes
. If you are into protein bars and supplements chances are you're not too concerned about this type of thing anyway – that or you've never read the ingredients on those things! For me, I don't always avoid them
100% of the time
as this can be very tricky to do, but I do always make an effort to limit the amount of processed, packaged food I eat in general. I think meat, veg, nuts and seeds is the way to go. Oh and cheese. All of the cheese ;)
How do they taste?
I was actually pleasantly surprised with the taste of these. I had the "Southern Style" flavour, also available is just "Roast Chicken" – I'm assuming unflavoured. The taste of the "Southern Style" seasoning was actually pretty close to what I expected – a mild inoffensive cajun bbq type flavour. Whilst the taste was pretty good, the texture was a bit unexpected… If you've ever had Subway's Oven Roast Chicken you'll be familiar with the texture of reconstituted chicken, I don't know if this is what is used in these Primo Protein Snacks but that's the texture I got from it. It's not the worse thing in the world and it would be hypocritical of me to dock them points for this – I'm known to be impartial to a few McNuggets from time to time ;)
Did it deliver on it's promise?
I think it's fair to say it did. These little "Chicken Roasties" are a tasty snack. The flavour, texture and size is all pretty on point in my opinion. I think it's great to see another Australian food manufacturer moving into this space and expanding the range of healthy snack products on offer. As I mentioned before, they're also available in "Roast Chicken" flavour as seen below. I bought these from Woolworths and it appears they're still on special for $2 which makes them even better :) Normal price is $3.
Have a product you want to see reviewed?
Let me know by commenting below! I'm always keen to see what you guys find and I love food :) Cheers, Luke
You've heard what we have to say, why not check out what some of our customers have to say about our products? Click here to view our Product Reviews
If you are looking for something that is a little closer to 'soft drinks' than flavoured mineral waters. We've compiled a list of what flavours are in the supermarkets. We chose not to include ...
Read more
The Keto Diet is a diet that focuses on eating foods high in fat, moderate in protein and low in carbs. The diet is said to help with rapid weight loss by forcing your body into a deprived state wh...
Read more