Introducing Kathy
I'm really excited to be joining the team of low carbers to manage communications across all the Low Carb Living Group brands to help people just like you live a healthy and happy low carb lifestyle. My journey into low carb began when the conventional food pyramid diet was failing me as someone with type 1 diabetes. Me in a nutshell I was diagnosed with late-onset type 1 diabetes when I was 20 years old in the final year of uni. My life took a pretty serious turn at the point, and managing my health and wellbeing became a big focus. It took me several years to make the switch to low carb, so most of my 20s was a juggling act between hypoglycemia and hyperglycemia along with several daily insulin injections, blood glucose finger prick testing, blood tests and medical appointments, while trying to live a normal life of a 20-something with work, travel, late nights (and late night kebabs). I worked in media and journalism for several years – and also lived overseas in Amsterdam and London for a few of those years while I travelled Europe. I ate and cooked everything and played around with a lot of trial and error to balance my blood sugar levels. No amount of diligent carb counting worked, and I was on a constant high and low rollercoaster every single day and night, which came with the side effects of being tired, nauseous, frustrated and not feeling 100% most of the time. I finally decided to leave the conventional advice after reading about people with type 1 finding success with low carb, and I reduced my carbs. The results made me wish I started it earlier. My hypos reduced significantly, the regular highs diminished, my HbA1c level dropped to the normal range. I feel so much better and more in control of my diabetes, and I feel reassured that I'm not putting myself at danger of dangerous long-term complications of diabetes. Where have I come from? I have lived in Perth for most of my life, and I then lived abroad in Europe and then London, and I moved over to Sydney just last year. You can say that I like to move around, and love a challenge. My family background is Macedonian, and my dad came over as an immigrant back in the 50s, and all my grandparents were born in Northern Greece before moving to Australia for a better life. I grew up eating Macedonian food (mainly hearty soups and stews, stuffed capsicums, and things like feta cheese and homemade pickles). My dad keeps an epic garden with rows of garlic, onion, capsicums, tomatoes, healthy herbs, free range chickens, and lots of fruit trees including quince, lemon, mandarin, banana and mango. He makes his own wine, brines his own olives, pickles his own veggies, and makes jars of his own home-grown garlic in oil. I've eaten veggies from the backyard since I was little. Today, all I have is a windowsill of fresh herbs in my tiny Sydney apartment, but I aspire to have that big veggie garden with chickens roaming around one day. I learned how to make home-cooked food from my mum and older sisters, from making homemade stews to pastry from scratch. Food is a ritual in many European families, from baking traditional biscuits and cooking a lamb on the spit for Easter each year, to helping mum make homemade pastries for New Year's day or special dough balls when someone has a baby. My mum's father (Dedo) was a cook in the army and had his own restaurant, and my grandmother (Baba) was always in the kitchen, with an oven than never seemed to be off and something always cooking away on the stove. Moving away from carbs and sugar took some effort on my part to educate my family (and friends) on why I can't eat those pastries anymore or have those biscuits at Easter (and that potatoes are carbs too). But, of course, they are super supportive and see the benefits low carb gives me. If anything, they have realised minimising those foods for anyone is probably a good thing, and mum now bakes her own sugar free cakes and biscuits (and I still request those homemade stews (minus the potato) when I have dinner at mum and dads). What got me started? I had a lot of ups and downs after lots and lots of trial and error to keep my blood sugar levels in check after my diagnosis. I learned how to carb count scrupulously, I weighed my food, I portion controlled, I read lots of books to educate myself, I diligently went to all my medical appointments and followed the conventional advice, I went on and then off an insulin pump, I tried various blood glucose monitors such as CGM, finger pricking and now the Freestyle Libre, I consulted with dietitians and endocrinologists, I investigated scientific studies, and I became a ninja at detecting how many grams of carbs were in just about any food. Relentlessly and despite my efforts, my levels were rarely in the normal range and I constantly felt tired after eating and sluggish before starting my day. I often had to wake up through the night to fix a hypo with glucose and food, and became anxious about exercising for fear of hypoglycemia. Over time, I knew it wasn't a sustainable, healthy or happy way to live, and overall I was incredibly exhausted by the daily grind. The one and ONLY thing that has worked to maintain blood sugar levels within a 'healthy' range, and give me a sense of freedom and control with my diabetes, is significantly reducing my carbs. So that's why I'm here. It really works, and I feel better than ever. It all makes sense to me now; If I can't metabolise carbs, why am I still eating them, and covering the sugar spike with large doses of insulin several times a day? While anecdotally low carb has worked wonders for me, there are more and more evidence-backed scientific studies coming out to show why low carb works to manage type 1 diabetes, such as this one. How do I keep it all in check? Despite what some people say, it really is sustainable and it is easy to stick to in the long term if you find the right foods that work for you. Finding substitutes for your carbs, such as low carb pizza, bread, cakes and cookies and alternatives to pasta, rice and potato, is important to help you find new favourites. I always try to have good substitutes on hand. So when I feel like a gooey chocolate brownie, I have the ingredients ready to go to whip a low carb one up. If I see a fat slice of banana bread in the cafe window, I remind myself I can make my own version as soon as I go home. I make and store sliced low carb bread in the freezer for those moments where I want a slice of buttered toast with my soup. Preparation is key. I'm all about having the right foods in the fridge, pantry, in my bag, around me wherever I go. I carry nuts with me, I bring my own foods onto a plane, I don't have anything in the pantry I'm not OK with myself eating, and I ensure I prepare ahead with a good weekly shop. On top of that, reminding myself WHY I do this keeps me in check. I constantly remind myself by keeping up with the latest literature and talking to friends who follow the same lifestyle. My network of type 1 low carbers has been essential to my success. Furthermore, if something doesn't serve me, I cut it out. I won't take on advice that doesn't help me, such as increasing wholegrains and fruit and reducing fat, just because someone tells me to. There are dietitians and doctors out there who support low carb if you look for them. There is a lot of information you can gain by reading books and articles online. And there is a huge community of people out there following the exact same lifestyle as you, for various reasons. My advice is to seek that out and do what is right for your own body. Me, outside the above. I have worked in broadcast journalism, print and digital media, and corporate communications after studying Journalism straight out of high school, and later studied Human Nutrition and Health Communications as a postgraduate. I've also lived in Amsterdam and London and I've travelled Europe extensively, but still my favourite place in the world is the south-west of Western Australia (OK, also Spain and Italy). I love red wine, cheese and nuts, my weekly shop isn't complete without peanut butter, tahini, dark chocolate and macadamias, and I regularly unwind with yoga and a jog. I love hip hop music, weekend baking, going out for brunch, and reading lots of books. My favourite foods are cauliflower mash, zucchini everything (e.g. courgetti and zucchini fritters), eggs everything (e.g. shakshuka, omelette, frittata, boiled eggs), low carb pancakes (topped with stewed frozen blueberries, Greek yoghurt and sugar free maple syrup), Sirena chilli tuna with the oil (straight from the tin), homemade dukkah (I'll share my recipe soon!), and I can't say no to a low carb cheese toastie. I'm still trying to love avocados (but I do include them in my diet, especially as guacamole or as a side with my eggs and dukkah). I am really passionate about food, cooking, nutrition and health. If I'm not in the kitchen baking and playing around with ingredients, I'm visiting farmers markets, reading nutrition blogs, scrolling through food pics on Instagram, or browsing food blogs online. I live and breathe it, which is why I am so excited to be working with Anna, Luke and the team here. If you have ANY QUESTIONS about low carb and type 1 diabetes management, please shoot me an email. I am happy to help.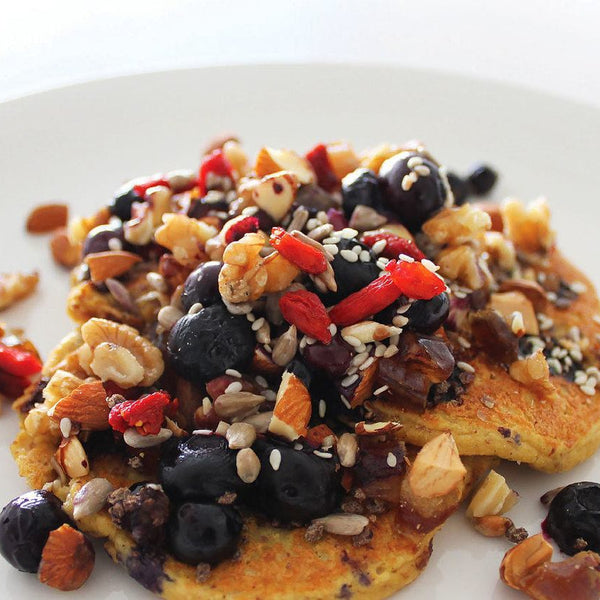 With the launch of our new Plant Based Range, we wanted to ensure that our vegan friends have an opportunity to enjoy all the benefits of our nutritionally superior products, too. We have done some...
Read more
When I started writing this, I didn't know where to start because there is SO MUCH evidence these days showing that fats really aren't as bad as we once thought. Fats are essential to life The t...
Read more